Nutella Banana Crepes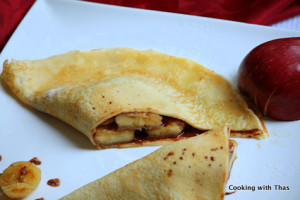 All purpose flour- 1 cup
Egg- 1
Milk- 1 cup (or ½ cup water + ½ cup milk)
Vanilla extract- 1 tsp
Butter, unsalted- 1 tbsp
Bananas, cut into rounds- 3 bananas
Butter- 1 tsp/ crepes
Nutella or any other chocolate spread
Powdered sugar- to sprinkle over the crepes (optional)
In a blender, add the flour, egg, milk and vanilla extract. Blend them into a smooth thin batter.
Do not make into a thick batter, the batter should have a thin constituency.
Place a non-stick pan over medium heat, add 1 tsp butter on the pan and let it melt.
Pour 1 large spoonful of batter onto the pan and gently swirl the pan so that the batter coats the pan well.
When the bottom side turns golden in color, flip it over and cook the other side as well.
Transfer the cooked crepes to a plate.
Make crepes with the remaining batter.
Cut the bananas into round slices.
In the same pan, add 1 tbsp butter and place the bananas on the pan.
Pan fry till the bananas turn golden brown in color. Do not mash them.
Transfer the roasted bananas into a plate.
Place one crepe on a plate, spread nutella or any other chocolate spread evenly on it.
Place 5 to 6 roasted bananas on the center of the crepes.
Fold the crepes into a semi circle shape.
if you want you could cut the crepes into 2 halves so that the bananas and nutella will be visible.
If you prefer, sprinkle powdered sugar over the crepes and enjoy for breakfast or brunch.