Fish Cutlets or Fish Patties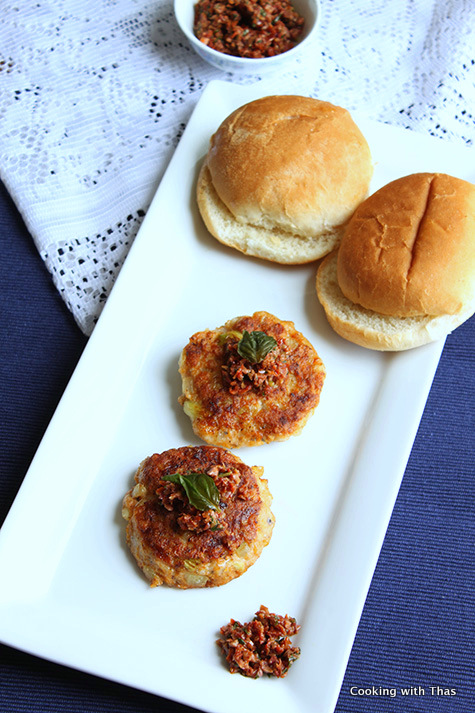 Fish, ground- 3 fillets (use Tilapia or Haddock or Basa)
Paprika- ¾ tsp
Ground cumin- ½ tsp
Dried Oregano- 1 tsp
Ground pepper- ½ tsp
Garam masala- ½ tsp
Salt- to taste
Bread crumbs- ½ cup
Oil- 2 tbsp
Onion, minced-1
Salt- a few pinches
Garlic, minced- 2 cloves
Celery, chopped very small- 2 ribs
Cilantro, chopped- 2 handfuls
Olive oil or vegetable oil- 3 to 4 tbsp
You could use boneless skinless tilapia or haddock or basa fish fillets or use any other soft fish.
Ground the fish in a food processor or in a blender. Do not make into a paste.
To the ground fish, add paprika, ground cumin, dried oregano ground pepper, garam masala, bread crumbs and salt. Combine well.
Place a pan over medium heat, add oil.
Add onion, season with little salt and saute till translucent.
Add garlic, saute for a minute.
Add chopped celery and cook till celery turns tender.
Add cilantro and cook for a few seconds.
Remove the pan from the heat and let the mixture cool down.
Add the cooked onion and celery to the ground fish, combine well.
Make medium sized patties.
Place a frying pan over medium heat, add 3 to 4 tbsp oil. Let the oil turn hot.
Place the fish patties on the pan and pan fry till both sides turn golden brown in color and the inside has cooked well.
Remove the cooked patties from the pan and let cool down a bit.
You could make sandwich or burger with these patties or simply top your favorite salad with these fish patties and drizzle with salad dressing.
Or warp the patties along with lettuce/tomato and mayonnaise or other dressing in a tortilla or chapati or pita.