Vegetable Soup with Cracked Wheat- Healthy Soup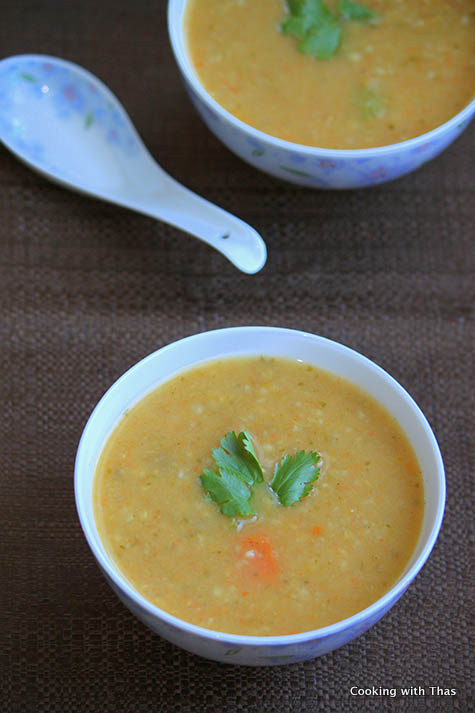 Carrot, diced small- 2
Celery, diced small- 3 ribs
Onion, chopped-1
Cracked wheat, rinsed-1/2 cup
Cilantro, chopped- ¼ cup
Vegetable stock or chicken stock- 4½ cups
Ground pepper- ¼ tsp
Chili powder- ½ tsp
Ground cumin- ½ tsp
Oregano, dried- ½ tsp (optional)
Salt- to taste
In a pressure cooker, add all the above mentioned ingredients.
Cover the pressure cooker, place the whistle on it and cook over medium heat for 20 minutes or until 1 whistle.
Remove the cooker from the heat. After the pressure subsides open the lid.
Using a hand blender, coarsely puree the cooked veggies and cracked wheat together.
Or pour half of the soup into a blender and puree it. Add to the remaining soup and mix well.
Do not completely puree the soup, leave small pieces of veggies and cracked wheat.
Taste, add more salt or ground pepper if needed.
Serve in a soup bowl and enjoy with crackers or toasted bread. Such a comforting soup.