Hyderabadi Chicken Dum Biryani Recipe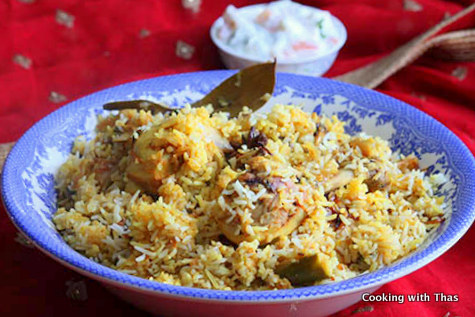 Chicken legs or bone-in pieces- 8
Green chilies, chopped- 3
Ginger-garlic paste- 1½ tbsp
Chili powder- 2½ tsp (or more if you need it to be spicy)
Turmeric powder- ¼ tsp
Coriander powder- 2½ tsp
Garam masala- 1½ tsp
Cilantro, chopped- ½ cup
Mint leaves, chopped- 8 leaves
Lemon juice- 2 tbsp
Yogurt or curd- ¾ cup
Salt- to taste
Basmati rice- 2 cups
Whole cloves- 3
Whole cardamom- 3
Star Anise seed- 1 (optional)
Cumin seeds- ½ tsp
Bay leaves- 3
Mint leaves, chopped- 4
Oil- 1 tbsp
Lemon juice- 1 tbsp
Salt- to taste
Water- 4½ cups
Onions, sliced thin and long- 2 (Fried in 2 tbsp oil+ 2 tbsp ghee)
Ghee Roasted cashew nuts- ¼ cup
Cilantro, chopped- ¼ cup
Mint leaves, chopped- 10 leaves
Saffron- ½ tsp soaked in 3 tbsp water
Oil- 2 tbsp
Ghee- 2 tbsp
In a bowl, combine the chicken along with the above mentioned ingredients 'for marinating chicken'. Cover the bowl with a plastic wrap and refrigerate for 3 hours or overnight the better.
In a large saucepan, combine the rinsed basmati rice along with all the ingredients mentioned 'for cooking rice'.
Place the saucepan over medium heat and cook covered for 15 minutes until the rice has half cooked. Do not completely cook the rice. To check, place one rice on your finger and squish it, it should be slightly crisp.
Drain the water and keep the half cooked rice aside.
Soak the saffron in 3 tbsp water, keep aside for 10 minutes.
In a frying pan, add 2 tbsp oil + 2 tbsp ghee and fry the onions until they turn golden brown in color. Transfer to a plate lined with kitchen paper towel.
In the same pan, roast the cashew nuts. If there is no oil left on the pan, add ½ tbsp ghee and roast them. Keep aside.
In a large non-stick wide pan/pot, add 2 tbsp oil and spread the marinated chicken pieces on the pan.
Cook the chicken over high heat for 3 minutes.
Reduce the heat to low.
Spread half of the rice over the marinated chicken, drizzle 1 tbsp ghee over the rice, sprinkle half of the fried onion, cashew nuts, cilantro, mint leaves and half of the soaked saffron water over the rice.
Again spread the remaining rice, 1 tbsp ghee, remaining fried onions, cashew nuts, cilantro, mint leaves and saffron.
Cover the pan tightly with aluminum foil and then cover with its lid.
Place a tawa or flat cast iron skillet on the stove and let it turn hot.
Place the pan with biryani ingredients over the tawa or cast iron skillet and cook over low heat for 25 to 30 minutes. If the biryani pot is placed on direct heat chicken might get burned.
After 30 minutes of cooking, turn off the heat and remove the pot from the tawa. Without opening the lid, Keep aside for 15 minutes.
Uncover after 15 minutes, combine the rice along with the chicken.
Serve warm on a plate and enjoy with raita, pappad and pickle.
Add more chili powder to make this biryani spicy.

You could even add 1 tbsp of store-bought chicken masala powder to the chicken and let marinate, enhances the taste.
Recipe by
Cooking with Thas - Healthy Recipes, Instant pot, Videos by Thasneen
at https://www.thasneen.com/cooking/hyderabadi-chicken-dum-biryani-recipe/