Shrimp Majestic with Chow Mein Noodles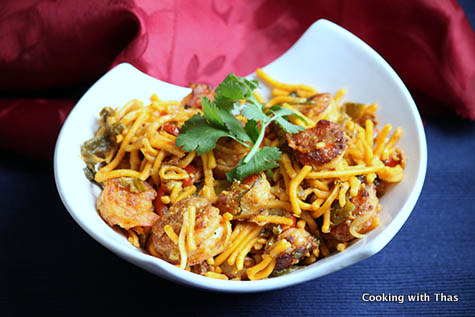 Shrimp, shelled and deveined- 20
Ginger-garlic paste- ½ tbsp
Corn starch- 4 tbsp
Egg white- from 1 egg
Ground pepper- ¼ tsp
Salt- a few pinches
Oil- 2 tbsp
Green pepper, sliced thin- 1
Red pepper, sliced thin- 1
Onion, sliced thin- 1
Chili powder- 3 /4 tsp to 1 tsp
Coriander powder- 1½ tsp
Garam masala- ½ tsp
Tomato ketchup- 3 tbsp
Soy sauce, low-sodium- 1½ tbsp
Yogurt or curd, beaten- ½ cup
Green onion or spring onions, chopped- 1 stalk
Cilantro chopped- ¼ cup
Vegetable Oil- ¼ cup to pan fry shrimp
Crispy Chow Mein Noodles- 1 packet
In a bowl, combine the shrimp with all the above mentioned ingredients 'for marinating shrimp'. Keep aside for 5 minutes.
Place a frying pan over medium heat, add ¼ cup oil.
Drop the marinated shrimp in oil and pan fry till they turn golden brown and crispy.
Using a slotted spoon remove the pan fried shrimp from the oil and place them on a plate lined with kitchen paper towel. Keep aside.
Place a saucepan over medium heat, fill ¾ th of the pan with water. Let the water come to a rolling boil.
Add the crispy chow mein noodles in hot water and cook for 1 minute and 30 seconds. This is to soften the noodles. Drain the water and keep aside the noodles.
Do not over cook the noodles, it will turn mushy.
Place a wok or non-stick pan over medium heat, add 2 tbsp oil. ( if you have any oil left after pan frying shrimp, use that)
Add the green pepper, red pepper and onion, season with salt and saute till the veggies turn translucent and light golden in color.
Add chili powder, coriander powder and garam masala. Combine well.
Add tomato ketchup, soy sauce, combine well and cook for a minute.
Beat the yogurt or curd using a whisk or spoon, add to the pan. Combine well and let cook for a minute.
Taste and add more salt or chili powder for spice if needed.
Add the pan fried shrimp, stir fry in the sauce.
Add green onions and cilantro, combine well and cook for a few seconds.
Finally, add the cooked chow mein noodles, combine well and stir fry for a 2 minutes.
Remove the wok from the heat.
Serve the shrimp majestic with noodles on a plate and enjoy when it is warm.
Chow mein noodles tastes better than other noodles.
Recipe by
Cooking with Thas - Healthy Recipes, Instant pot, Videos by Thasneen
at https://www.thasneen.com/cooking/shrimp-majestic-with-chow-mein-noodles/