Chinese Green Onion Pancakes- Scallion Pancakes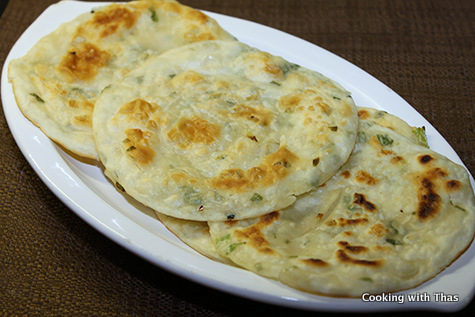 All purpose flour- 1½ cups
Salt- ¼ tsp
Hot water- ½ cup
Green onions or scallions- 3, chopped small (use only the green part)
Sesame oil- 2 to 3 tbsp (or use vegetable oil)
Vegetable oil- for shallow frying
In a bowl, combine the flour, salt and green onions.
Slowly add hot water and knead well for 10 minutes to a smooth and soft dough.
Cover the dough with a damp cloth and let rest for 30 minutes.
Make medium sized 8 balls out of the dough. Roll the balls till smooth in between your palms.
Use a clean flat surface or wooden cutting board to roll the dough balls.
Grease the flat surface or cutting board with non-stick cooking spray.
Place the dough ball on the surface, using a rolling pin roll into a thin round shape. If it gets sticky, dust some flour and roll.
Brush the rolled dough with some sesame oil.
Roll the dough into a cylinder and then make into a coil.
Roll the coiled dough into a round shape.
Heat a non-stick pan over medium heat, add 3 to 4 tbsp vegetable oil for shallow frying.
Place the rolled dough onto the oil, shallow fry till both sides turn golden in color and crispy.
Place the pancake on a kitchen paper towel, let the paper absorb the oil.
Serve immediately when the pancake is still warm, it will be crispy.
This can be eaten as it is or can be served with your favorite curry.