Beef and Red Lentil Soup Recipe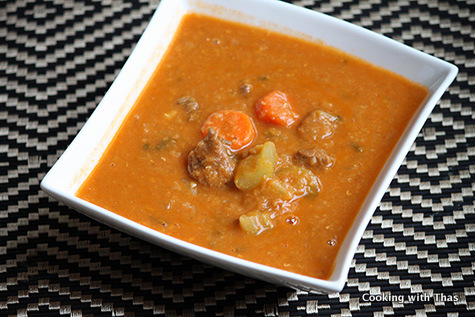 Oil- 1 tbsp
Beef stew cut- 1 Lb, cut into small pieces
Ginger-garlic paste- ½ tbsp
Chili powder- 1 tsp
Coriander powder- 1 tsp
Ground cumin- ½ tsp
Carrot, diced- 3
Celery, diced- 3 stalks
Onion, diced- 1
Cilantro, chopped- 2 handfuls
Red lentil- 1 cup
Tomato paste- 3 tbsp
Water 4 cups
Salt- to taste
Place a pressure cooker over medium heat, add oil.
Add the beef, saute for a minute. Season with salt.
Add ginger-garlic paste, saute for a minute.
Add all the other spices, veggies, tomato paste and red lentil combine well and saute for a minute.
Add water, combine well.
Add enough salt to taste.
Cover the pressure cooker, place the whistle and let cook for 20 to 25 minutes or until 3 to 4 whistles.
Let the pressure subside, open the lid.
Give everything a mix, taste and add more salt if needed.
Serve in soup bowls and enjoy with crackers, toasted bread, pita bread etc.
This can also be served as a stew along with rice.