Chicken Naan Sandwich Recipe- Chicken Naanwich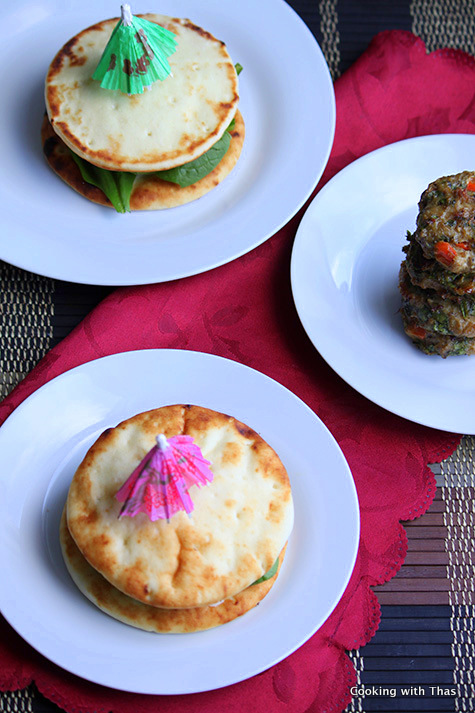 Ground lean chicken- 1 lb or ½ Kg (or use lean ground beef)
Fresh Spinach, chopped small- 2 cups
Red pepper, chopped small- 1
Green onions, chopped small- 1 stalk
Ground pepper- ½ tsp
Ground Cumin- ½ tsp
Garam masala- ½ tsp
Salt- to taste
Cilantro, chopped- 2 handfuls
If you want the patties to be spicy add chili powder- ¾ to 1 tsp
Mini Naan breads- 18
Fresh Spinach or lettuce
Tomatoes, cut into rounds
Ranch or Caesar dressing or Mayonnaise
Cheese slices
Preheat oven to 400 F.
In a large bowl, combine the ground chicken with all the above mentioned ingredients.
Make medium sized balls, flatten them between your hands.
Line a baking sheet with aluminum foil. Grease with non-stick cooking spray.
Arrange the ground chicken patties on the baking sheet.
Place the baking sheet on the lower rack of the oven.
First bake for 25 minutes, after that take the baking sheet out of the oven and flip the patties over.
Bake for another 10 more minutes.
Avoid over baking as the patties would turn dry and hard.
Let the patties cool down a bit.
Warm up the naan breads in the oven or in the microwave.
Top one of the naan breads with spinach or lettuce, place one chicken patty, top with 1 round tomato and 1 cheese slice.
Spread the other naan bread with Ranch or caesar or Mayonnaise. Place it over the cheese.
Serve immediately and enjoy.
You could use ground beef instead of ground chicken.

You could add any kind of seasonings to the ground chicken.

Use any kind of spread or dressing.

Recipe by
Cooking with Thas - Healthy Recipes, Instant pot, Videos by Thasneen
at https://www.thasneen.com/cooking/chicken-naan-sandwich-recipe-chicken-naanwich/