Asian Chicken Salad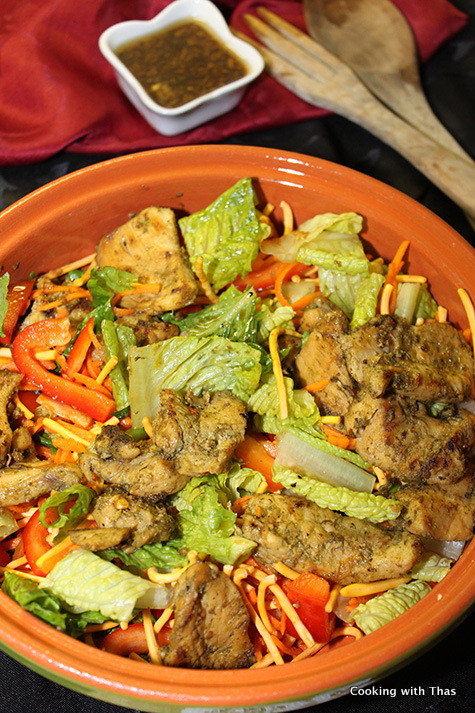 Chicken breasts or thighs, cut into thin wedges or strips- 3 breasts or thighs
Fresh Basil leaves- 3
Fresh Mint leaves- 5
Cilantro, coarsely chopped- 2 handful
Ginger, chopped- 1 inch slice
Garlic, chopped- 2 cloves
Soy sauce- 1½ tbsp
Fish sauce- 1½ tbsp
Vegetable oil- 1 tbsp
Brown sugar- 1 tbsp
Thai red chili or bird's eye chili- 1 (or use jalapeno or green chili)
Water- 2 tbsp (to make a thick paste)
Fresh Lemon juice- ¼ cup
Soy sauce- 3 tbsp
Brown sugar- 1½ tbsp
Vegetable oil- 1½ tbsp
Sesame oil- ½ tbsp
Garlic, grated- 1 clove
Grated lemon zest- ½ tbsp
Ground pepper- ½ tsp
Lettuce, chopped- 1 head
Carrots, shredded- 2 medium sized
Red pepper, cut into thin wedges- 1
Chow mein crispy noodles- 1½ cups
Green onions, chopped- 1 stalk
In a bowl, whisk all the ingredients for making the dressing, keep aside.
Cut the chicken into wedges or strips.
In a blender, combine all the ingredients mentioned for making the marinade to a smooth paste. Use fresh herbs for better taste.
Add the marinade to the chicken, combine well and marinate in the refrigerator for an hour or overnight for better taste.
Pan fry or grill the chicken till they turn golden brown in color. Do not make them too hard and crispy. Keep aside the stir fried chicken.
In a large bowl, combine all the veggies, top with chow mein crispy noodles. You could use any kind of greens and veggies.
Top the veggies with stir fried chicken, drizzle the dressing over them and mix everything well.
Keep aside to set for 30 minutes or an hour.
Add more dressing if you want while serving and enjoy the aromatic and falvorful Asian chicken salad.
This can be made ahead of time and makes a great salad for parties and get togethers.
Keep the dressing in the refrigerator for a couple of days.