Easy Banana Fritters Recipe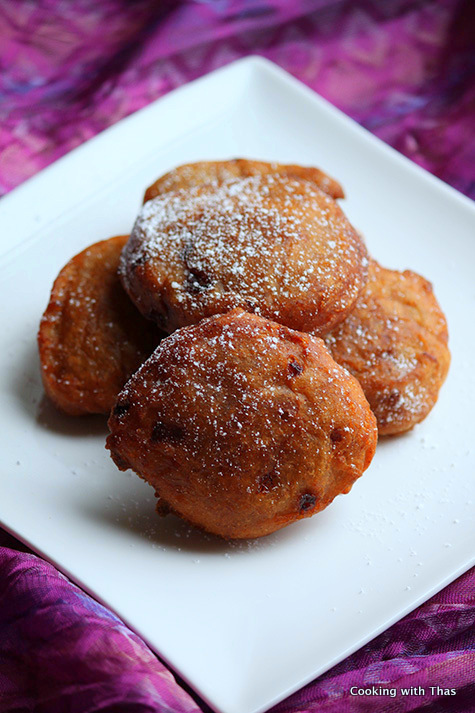 Ripe bananas- 2
All purpose flour- 1 cup
Baking powder- 1 tsp
Sugar- 3 tbsp
Ground cinnamon- ¼ tsp
Salt- ⅛ tsp
Water- 2 to 3 tbsp
Oil- enough for deep frying
Powdered sugar- to sprinkle on the fritters
Combine the flour, baking powder, sugar, ground cinnamon and salt together.
In a large bowl, mash the ripe bananas using a fork.
Add the flour mix and combine well with the mashed bananas without any lumps.
If the batter is too thick, add 2 or 3 tbsp water and combine well.
The batter shouldn't be too thick nor too watery.
Cover the bowl with a plastic wrap and refrigerate for 15 minutes.
Heat a frying pan, add oil and let the oil turn hot.
Take the batter using a spoon and drop it into the hot oil.
Deep fry till the fritter turns golden brown in color.
Transfer the fritters onto a kitchen paper towel and let cool down a bit.
Enjoy the fritter while it's warm, sprinkle the powdered sugar on it and serve immediately.
To serve as a dessert- Top the fritters with 2 scoops of vanilla ice cream, drizzle chocolate syrup and serve. This is going to taste delicious.