Chicken Couscous Soup- Couscous soup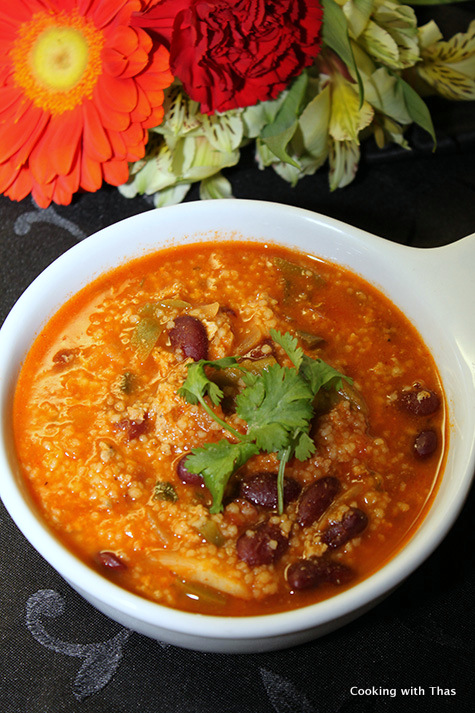 Oil- 2 tbsp
Onion, chopped- 1
Ground pepper- ½ tsp
Ground chicken- 1 lb or ½ Kg
Green pepper, cubed small- 1
Tomatoes, chopped- 2
Red Kidney beans- 1 can
Tomato sauce, low-sodium- 400 ml or 1½ cups
Water- 2 cups
Ground Cumin- 1½ tsp
Chili powder- 1 tsp (add more if needed)
Cilantro, chopped- ¼ cup
Cooked Couscous- 1 cup
Salt- to taste
To cook couscous: Boil 1¼ cups water in a saucepan, when the water comes to a boil, add 1 cup couscous, cover the pan and remove the pan from the heat. Let stand for 5 minutes and the couscous will get cooked. Keep aside the cooked couscous.
Place a large pan over medium heat, add oil.
Add onion, season with salt and ground pepper, saute for a few minutes.
Add ground chicken, combine well and break any lumps that's formed. Cook for a few minutes till the pink color disappears.
Add green pepper and tomatoes, cook for a couple of minutes.
Add red kidney beans, tomato sauce and water.
Season with ground cumin, chili powder and salt.
Cover the pan and cook for 10 to 15 minutes till the ground chicken has cooked well.
Add cilantro, combine well.
Finally, add 1 cup cooked couscous, combine well.
Cook for a minute and remove the pan from the heat.
if the soup is too thick, add water to thin down.
Taste and add more salt or more chili powder for spice.
Serve in soup bowls and enjoy, you could have pita bread or bread along with this.