Chicken Coconut Rice Recipe (Erachi Thengachor)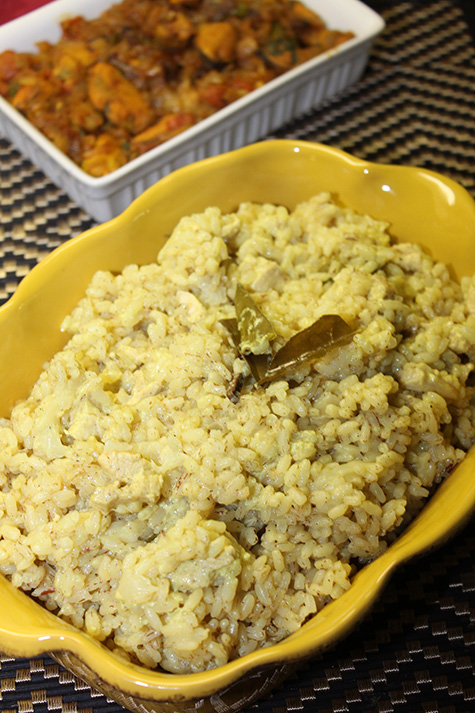 Chicken breasts, cubed- 2 breasts
Coconut oil- 2 tbsp
Onion, chopped- 2
Ginger-garlic paste- ½ tbsp
Green chili, halved- 3
Curry leaves- 1 sprig
Whole Cinnamon- 2 inch slice
Ground pepper- 1 tsp
Turmeric powder- ¼ tsp
Coconut milk, thick- 3 cups ( 2, 400mL cans)
Water- 1¼ cups
Rosematta rice or Matta rice, rinsed in water- 2½ cups
Salt- to taste
You have to use Rosematta or Matta rice to make this dish, other white rice wouldn't give the right taste.
Wash the rice taken in a sieve under running water, keep aside.
Place a pressure cooker over medium heat, add coconut oil.
Add cinnamon, saute for a few seconds.
Add onion, curry leaves, green chilies and salt, saute for a few minutes.
Add ginger-garlic paste, saute for a couple of minutes.
Add chicken (I used boneless chicken breasts, if you prefer you could add bone in small pieces), season with ground pepper, salt and turmeric powder.
Cook chicken for a few minutes.
Pour coconut milk and water. Let it come to a slight boil.
Add the rice to the liquid. Combine well.
Taste and add more salt if needed.
Cover the pressure cooker and place the whistle on it.
Let it cook till 2 whistles.
As soon as you get the 2nd whistle, remove the cooker from the stove and let the pressure subside.
Open the lid and combine the rice using a spatula or fork.
Serve hot along with pickle or lentil curry.
Do not over cook, as the rice at the bottom of the cooker will get burned.
Recipe by
Cooking with Thas - Healthy Recipes, Instant pot, Videos by Thasneen
at https://www.thasneen.com/cooking/chicken-coconut-rice-recipe-erachi-thengachor/