Pesto Chicken Pasta - Spinach Pesto Pasta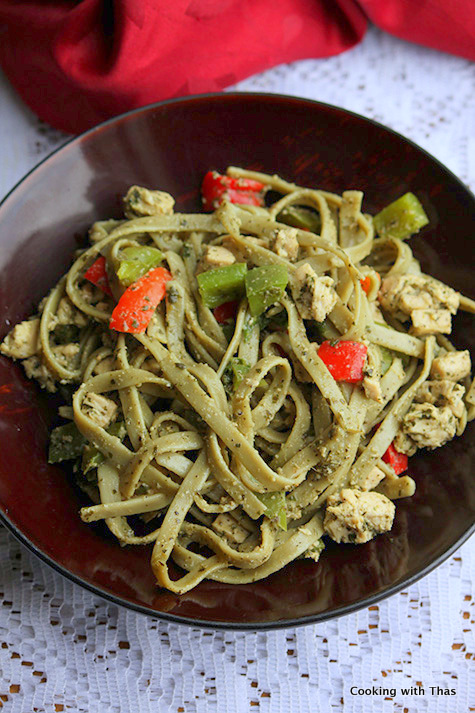 Chicken breasts cubed, boneless- 2
Green pepper, diced- 1
Red pepper, diced- 1
Basil Pesto- 4 to 5 tbsp
Ground pepper- ½ tsp
Salt- to taste
Spinach fettuccine or any other pasta- ½ pack
Olive oil- 1 tbsp
You could either make fresh pesto or use store bought ones.
Cook the fettuccine (I used spinach fettuccine) or any other pasta in boiling water seasoned with salt till the pasta turns tender. Drain the water and keep aside.
Place a wide pan over medium heat and add olive oil.
Add cubed chicken, season with ground pepper and salt.
Cook the chicken covered till it has cooked well.
Add green pepper and red pepper, stir fry for a few minutes till they turn slightly tender. Do not over cook them.
Add the basil pesto, combine well,
Add the cooked fettuccine and combine everything well.
If you want add more pesto, ground pepper and salt according to your needs.
Remove the pan from the heat.
Serve the pesto chicken pasta in a bowl and enjoy this flavorful and aromatic dish.