Chicken Red Lentil Curry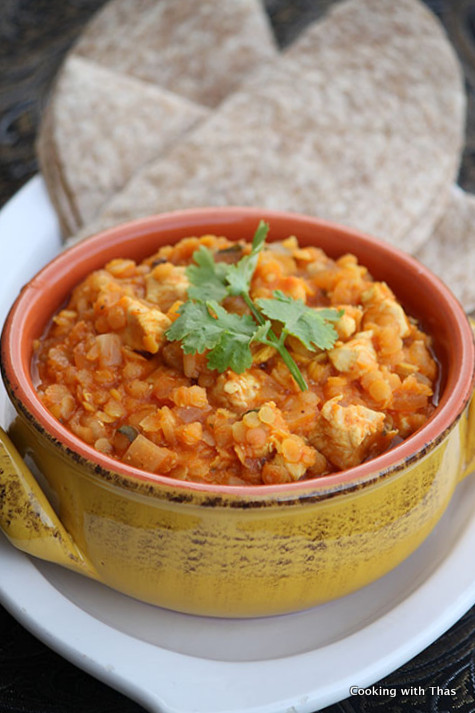 Oil- 1½ tbsp
Cumin seeds- 1 tsp
Whole red dry chilies- 2
Onion, chopped- 1
Ginger-garlic paste- ½ tbsp
Tomatoes, chopped- 2
Boneless chicken breast, cubed- 2 breasts (or use thighs)
Chili powder- 1 tsp (or more according to your spice level)
Coriander powder- 1½ tsp
Ground Cumin- ½ tsp
Garam masala-1/2 tsp
Red lentil- ¾ cup
Tomato sauce- ½ cup
Water- ½ cup
Ground pepper- ½ tsp
Cilantro, chopped- 2 handfuls
Salt- to taste
Place a non-stick pan saucepan over medium heat, add oil.
Add cumin seeds and whole red dry chilies, saute for a few seconds till aromatic.
Add onion, season with little salt and saute till translucent.
Add ginger-garlic paste, saute for a minute.
Add tomatoes, cook for a couple of minutes.
Add cubed chicken breast, combine well.
Season chicken with chili powder, coriander powder, ground cumin, garam masala and salt. Combine and cook covered till chicken has almost cooked.
Add red lentil and tomato sauce, combine well and cook till lentils are cooked.
Add ½ cup water to thin down the gravy and cook for a few more minutes.
Taste and add more salt if needed.
Add ground pepper and cilantro, combine well and cook for a minute.
Remove the pan from the heat and keep it covered for sometime.
Serve this curry with rice, chapati, roti, orotti, appam etc.