Shrimp Tom Yum Soup - Aromatic Thai Soup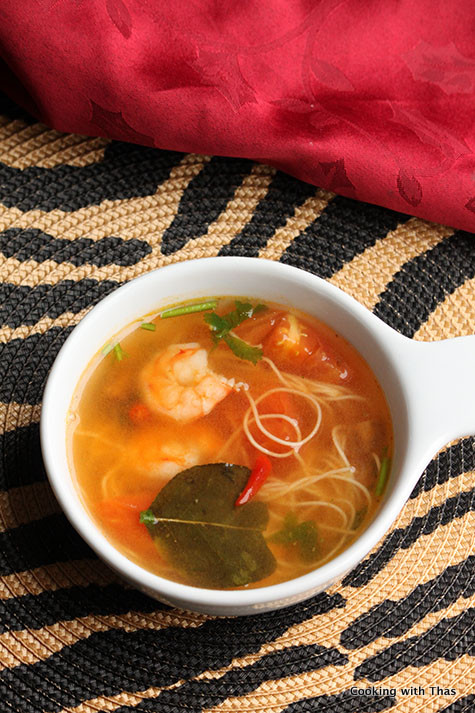 Chicken or vegetable stock- 4 cups (low-sodium)
Lemon grass- the white part of 1 stalk, cut into 1 inch slices
Kaffir lime leaves- 4
Galangal, cut into 1 inch slice- 2 small pieces
Thai red chili, halved- 2
Fish sauce- 1 tbsp
Sambal Oelek- ½ tsp (or add ground pepper)
Thai Red curry paste- ½ tbsp
Lime juice- ½ tbsp
Shrimp, shelled and deveined- 8
Tomato, diced- 1 large tomato
Chow mein noodles
Cilantro, chopped- ¼ cup
In a large saucepan or soup pot, add chicken stock along with lemon grass, kaffir lime leaves, galangal and Thai red chilies. Let the stock come to a rolling boil.
Add fish sauce, sambal oelek and thai red curry paste, combine well and cook over medium low heat for 3 minutes.
Add shrimp, tomato, chow mein noodles (just add enough) and lime juice, cook for 5 minutes. Do not over cook the tomatoes.
Garnish with cilantro.
While serving, discard the kaffir leaves, lemon grass, galangal and the peppers.
Serve hot in a soup bowl and enjoy.