Easy Microwave Barfi Recipe- Khoya- Mawa Barfi Recipe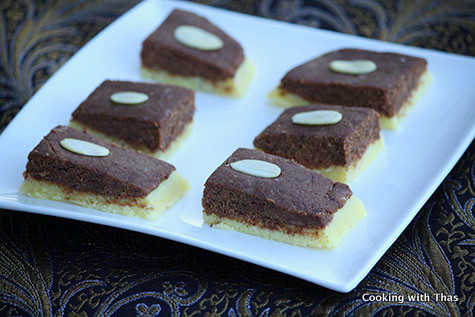 Khoya or Mawa (solidified milk)- 200 gms or 7 oz
Powdered sugar- ½ cup (based on your needs)
Ground cardamom- ⅛ tsp
Cocoa powder- 2 tsp
Ghee- 1 to 2 tsp
Almond or Pistachios- for garnishing
Khoya or Mawa is available in most Indian grocery stores.
Take the khoya in a large microwave safe glass bowl, using your hand crumble it.
Place the bowl in the microwave and cook for 1 minute.
After 1 minute, take the bowl out of the microwave, combine the khoya well with a spoon.
Again cook in the microwave for 1 minute. Take it out and combine well with the spoon.
Keep the bowl back into the microwave and cook for 30 seconds.
Take it out and combine well. The mixture should be soft.
Add powdered sugar (based on your needs) to the cooked khoya, combine well and microwave for 30 seconds.
Take it out and combine well.
Add ground cardamom and combine well, let cool down.
Divide the cooked khoya into two equal parts. To the one part add cocoa powder and combine well thoroughly until the khoya is well incorporated with the cocoa powder and turns brown in color.
Spread ghee on a plate and spread the white milk khoya as the first layer. Using the back of a spoon spread well and make a square shape.
Spread the chocolate khoya on top of the milk khoya and gently spread over it.
Let rest for a few minutes to set.
Cut into square or diamond shapes, garnish with almond or pistachios on each piece.
Enjoy these delicious barfis that are made effortlessly.
Double the recipe for making more.

You could add any kind of nuts or flavorings.
Recipe by
Cooking with Thas - Healthy Recipes, Instant pot, Videos by Thasneen
at https://www.thasneen.com/cooking/10-minute-easy-microwave-barfi-recipe-khoya-mawa-barfi-recipe/