Roasted Rosemary Potatoes - Oven Roasted Potatoes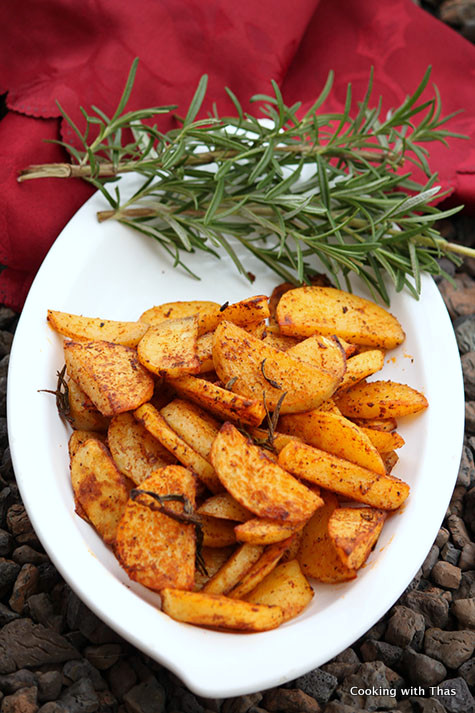 Potatoes, cut into thick wedges- 7, medium sized potatoes
Fresh rosemary- 2 sprigs, coarsely chopped
Paprika- 1 tsp
Ground pepper- ¼ to ½ tsp
Salt- to taste
Olive oil- 3 tbsp
Preheat oven to 400 F.
Line a baking sheet with aluminum foil, grease with non-stick cooking spray.
In a bowl, combine cut potatoes with rosemary, paprika, ground pepper and salt.
Spread the potatoes on the baking sheet.
Drizzle olive oil over the potatoes and give them a stir.
Bake for 40 to 45 minutes till the potatoes have cooked well and starts to turn golden brown in color.
Half way through, you could toss the potatoes and flip them over.
Remove the baking sheet from the oven, let cool down a bit.
If needed you could sprinkle more ground pepper and salt.
Serve as a side dish.