Cornmeal Blueberry Cake- Eggless Cornmeal Cake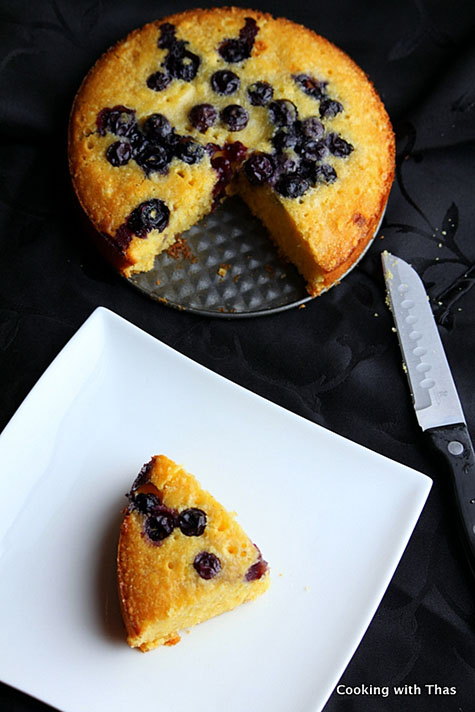 Yellow Cornmeal, finely ground- 2 cups
All purpose flour- ½ cup
Sugar- ¾ cup
Unsalted Butter or Vegetable shortening, melted- 2 tbsp
Salt- ¼ tsp
Orange blossom water or Vanilla extract- 1 tsp
Baking powder- 1½ tsp
Milk- 2 cups
Blueberries- 1 cup
Maple syrup or honey- to drizzle while serving
Preheat oven to 350 F.
in a bowl, sift together cornmeal, flour, sugar, baking powder and salt.
Melt the butter or shortening in the microwave.
Add the melted butter or shortening into the flour mix and combine well using a whisk.
Add the milk slowly and whisk well till a smooth batter is formed.
I added orange blossom water, you could use any kind of flavoring- vanilla extract, almond extract etc.
Grease a 8 inch cake pan with non-stick cooking spray, line with parchment paper.
Pour the batter into the cake pan.
Top the cake batter with blueberries.
Bake in the preheated oven for 55 to 60 minutes till the cake turns golden in color and a fork inserted into the center of the cake comes out clean.
Remove the cake from the oven, let cool down.
While serving, slice the cake and you could drizzle maple syrup or honey over it and enjoy.
For making a small cake, you could half the recipe.
Recipe by
Cooking with Thas - Healthy Recipes, Instant pot, Videos by Thasneen
at https://www.thasneen.com/cooking/cornmeal-blueberry-cake-eggless-cornmeal-cake/