Chicken 65 Recipe - Delicious Chicken 65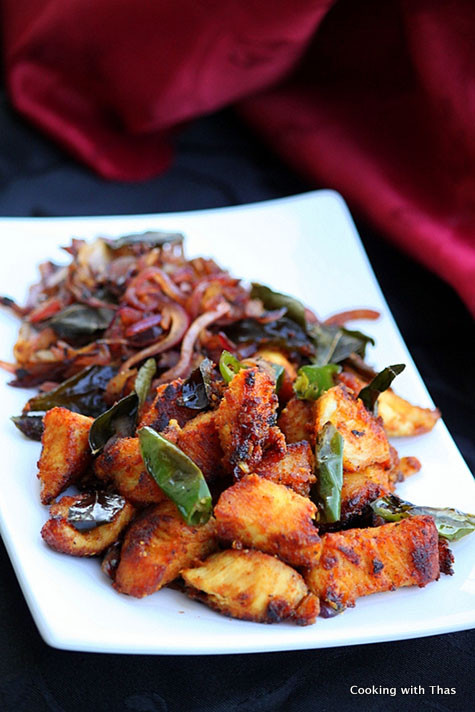 Boneless Chicken breast or thighs, cubed evenly- 3 breasts or thighs
Ginger-garlic paste- ½ tbsp
Kashmiri red chili powder- ¾ to 1 tsp
Coriander powder- 1½ tsp
Turmeric powder- ⅛ tsp
Ground cumin- ½ tsp
Garam masala- ½ tsp
Ground pepper- ½ tsp
Corn flour- 1 tbsp
White Vinegar- ½ tbsp (or use lemon juice)
Yogurt- 3 tbsp
Tomato ketchup- 1 tbsp (optional)
Curry leaves- 1 sprig
Salt- to taste
Oil,used for frying chicken- 2 tbsp
Mustard seeds- 1 tsp
Green chilies, halved- 3
Curry leaves- 2 sprigs
Red onion, sliced thin- 1
Chili powder- ½ tsp
Vinegar- 2 tsp
Salt- to taste
Oil- for deep frying chicken
You could either use chicken breasts or thighs, thighs will turn more softer and tender.
In a bowl, combine all the ingredients mentioned for marinating chicken. Keep refrigerated for 3 hours or overnight the better.
Place a frying pan over medium heat, add enough oil for deep frying and let the oil turn hot.
Add the marinated chicken pieces without crowding and deep fry over medium heat till golden brown in color. Do not fry over high heat.
Fry the chicken in 3 to 4 batches.
Transfer the fried chicken to a kitchen paper towel. Keep aside.
Place a non-stick pan over medium heat, add 2 tbsp oil used for frying chicken.
Add mustard seeds, let it splutter.
Add green chilies and curry leaves, saute for a minute.
Add sliced red onion, season with salt, saute till onions turn golden brown.
Add chili powder, saute for a few seconds.
Add vinegar, combine well.
Remove the pan from the heat.
While serving, garnish the red onion tempering over the chicken 65.
Enjoy this delicious chicken 65 appetizer.
In restaurants, red color will be added to the marinade, that explains the vibrant red color of this dish.
Recipe by
Cooking with Thas - Healthy Recipes, Instant pot, Videos by Thasneen
at https://www.thasneen.com/cooking/chicken-65-recipe-delicious-chicken-65/