Cracked Wheat Salad Recipe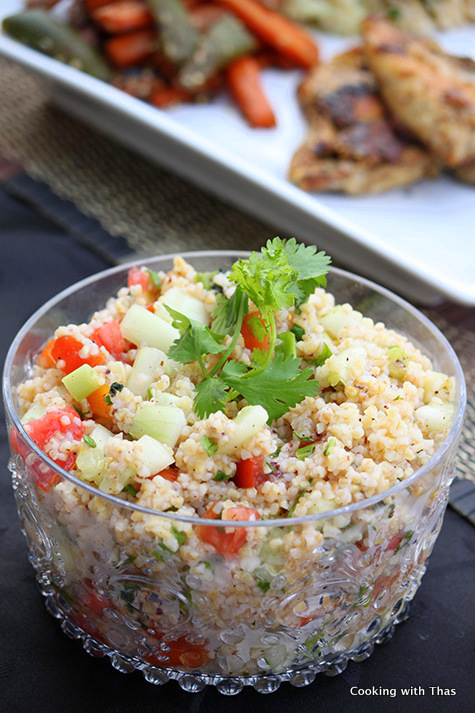 Cracked wheat- 1 cup
Cucumber, chopped small- 1
Tomatoes, diced small- 2 or 3
Cilantro, chopped- ¼ cup
Mint leaves, chopped- 8 to 10 leaves
Sumac- 2 tsp (you could replace with other seasonings)
Lemon juice- 2 tbsp
Ground pepper- ½ tsp
Salt- to taste
Olive oil- 1 to 2 tbsp
In a saucepan, cook 1 cup cracked wheat with 2 cups water till all the water has absorbed and the wheat has cooked well.
Let the cooked cracked wheat cool down.
In a large bowl, combine all the ingredients along with the cooked cracked wheat.
Taste and add more salt or ground pepper according to your needs.
You could add any kind of seasonings or dressings you want.
Make it into a full meal by adding cooked shredded chicken to the salad, Yum.
Recipe by
Cooking with Thas - Healthy Recipes, Instant pot, Videos by Thasneen
at https://www.thasneen.com/cooking/cracked-wheat-salad-recipe/