Asian Style Chicken Orzo - Chicken Orzo Recipe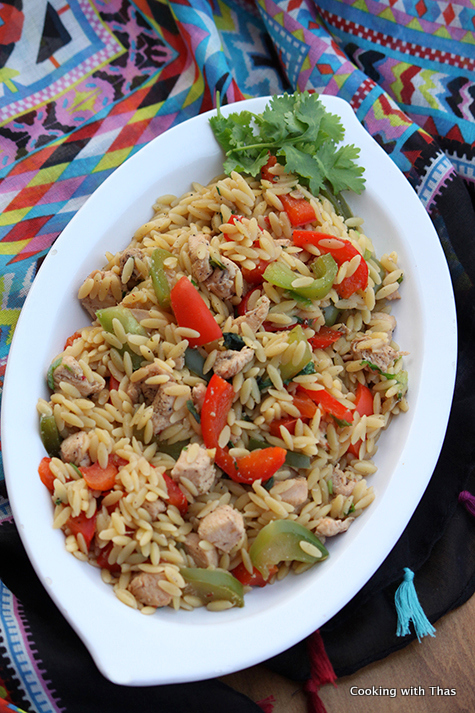 Oil- 1 tbsp
Ginger, grated- 1inch slice
Garlic, minced- 1 clove
Chicken breast or thighs, diced small- 2
Ground pepper- ½ tsp
Salt- to taste
Green pepper, cubed- 1
Red pepper, cubed- 1
Soy sauce- 1½ tbsp + 1 tbsp
Hoisin sauce- 1 tbsp
Sambal oelek or chili paste- ¾ tsp
Orzo pasta- 1½ cups
Basil leaves, chopped- 4 leaves
Cilantro, chopped- 2 handfuls
Green onions, chopped- 1 stalk
Sesame oil- 1 tsp
Cook 1½ cups orzo pasta in boiling water, seasoned with salt till they turn tender. Drain the water and drizzle 1 tbsp oil over the cooked orzo, keep aside.
Place a wok or large non-stick pan over medium heat, add oil.
Add ginger and garlic to the oil, saute till golden in colour.
Add the diced chicken, season with ground pepper and salt, combine well.
Cook covered till chicken is almost cooked.
Add green pepper and red pepper and cook for a couple of minutes.
Add 1½ tbsp soy sauce, hoisin sauce and sambal oelek, combine well and cook till peppers are almost cooked. Do not over cook the peppers.
Add the cooked orzo, combine well.
Add 1 tbsp more soy sauce, basil leaves, cilantro and green onions, combine well and cook for a couple of minutes.
Finally, drizzle sesame oil, combine well and stir fry for a few seconds.
Remove the pan from the heat.
Serve the Asian style chicken orzo on a plate and enjoy.
You could add any kind of small pasta or even noodles- rice or chow mein.
Recipe by
Cooking with Thas - Healthy Recipes, Instant pot, Videos by Thasneen
at https://www.thasneen.com/cooking/asian-style-chicken-orzo-chicken-orzo-recipe/