Grilled Cilantro Shrimp - Grilled Shrimp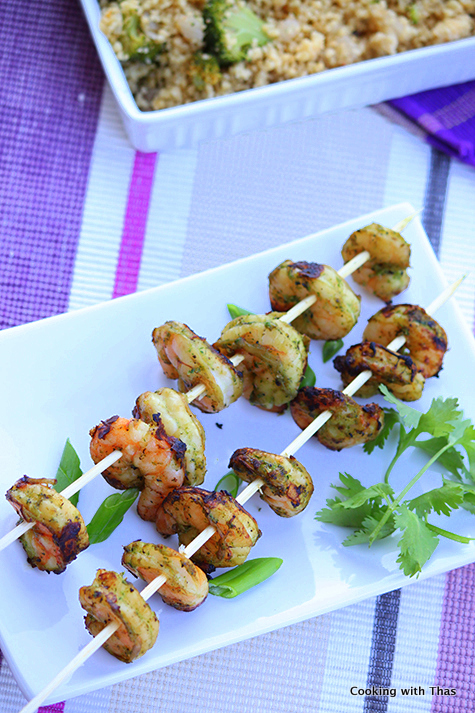 Shrimp, deveined and shelled- 25
Cilantro, chopped- ¼ cup
Green onions or scallions, chopped- 1 stalk
Whole black pepper corns- 1 tsp
Ginger, chopped- 1 inch slice
Garlic, chopped- 1 large clove
Soy sauce, low-sodium- 1½ tbsp
In a blender, puree all the ingredients mentioned for making the marinade to a smooth paste by adding very little water.
Since, soy sauce has salt in it, no need to add salt.
In a bowl, combine the shrimp along with the marinade and marinate in the refrigerator for 30 minutes.
Insert the marinated shrimp into wooden or steel skewers without crowding.
Spray non-stick cooking oil on the grill.
Spray non-stick cooking oil on the skewered shrimp as well.
Grill on medium high heat till the shrimp turns golden brown in colour, rotate the skewer half way through.
Half way through, spray non-stick cooking oil over the shrimp and grill for a couple more minutes, this will give a nice fried taste to the shrimp.
Remove the skewers from the grill and let cool down a bit.
Serve with rice or couscous.
You could pan fry the marinated cilantro shrimp in 2 to 3 tbsp of oil till they turn golden brown.
Recipe by
Cooking with Thas - Healthy Recipes, Instant pot, Videos by Thasneen
at https://www.thasneen.com/cooking/grilled-cilantro-shrimp-grilled-shrimp/