Bread stuffed with Chicken Masala- Easy Bread Pola Recipe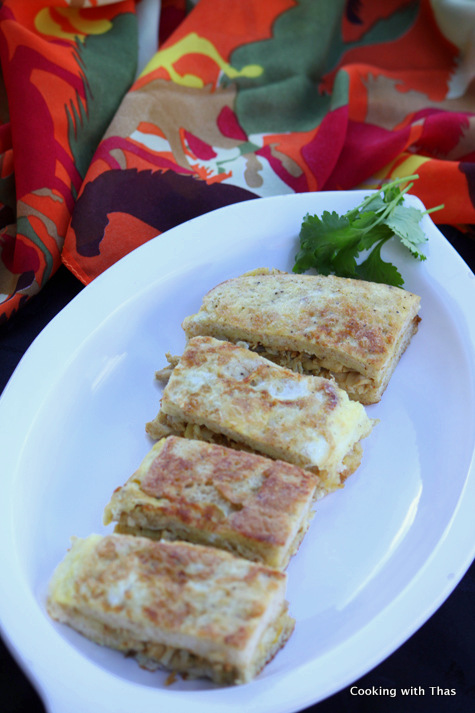 Chicken breasts or boneless chicken- 2 breasts
Ginger-garlic paste- ½ tbsp
Chili powder- ½ to 1 tsp
Turmeric powder- ⅛ tsp
Coriander powder- 1½ tsp
Garam masala- ½ tsp
Ground pepper- ¼ tsp
Salt- to taste
Oil- 1 tbsp
Onion, chopped small- 3
Ginger-garlic paste- ½ tbsp
Cilantro, chopped- 2 handfuls
Salt- to taste
Ghee- 1½ tbsp
Bread slices, white or wheat- 6
Egg, beaten- 3 ( or use whites of 2 egg and 1 egg with yolk and white)
Ground pepper- ¼ tsp
Salt- to taste
In a saucepan, combine the chicken with all the above mentioned spices 'for marinating chicken'. Cook covered till the chicken has cooked well and the water dries off. Let the chicken cool down.
Shred the cooked chicken using a fork or wooden spoon without any lumps. Keep aside.
Place a non-stick pan over medium heat, add oil.
Add chopped onions, season with salt and saute till translucent.
Add ginger-garlic paste, saute till onions turn golden in color.
Add the shredded chicken to the onions, combine well.
Taste and add more salt if needed. If more spice is needed add more ground pepper or chili powder. Combine well.
Add chopped cilantro, cook for a few seconds.
Remove the pan from the heat and keep aside.
You could use white or whole wheat bread.
Remove the brown sides of the bread.
In a bowl, beat the egg with ground pepper and salt. You could either use 3 eggs (with white and yolk) or use whites of 2 eggs and 1 egg with the yolk and white.
Use a small non-stick pan for making this.
Place the pan over low heat.
Add 1 tbsp ghee, let it melt and spread the ghee inside the pan (sides and bottom of the pan).
Dip the bread slice in the egg and place it on the pan. Do not soak the bread in egg, just dip it and take it out.
I placed 2 bread slices close to each other and halved the third bread to fit into the pan. Also, there shouldn't be any gaps between the bread slices.
Evenly spread a few tablespoons of chicken masala over the bread layer.
Again, place the bread slices dipped in egg over the chicken masala. Bread should fully cover the chicken masala.
If there is any egg remaining, pour over the bread.
Drizzle ½ tbsp ghee over it.
Let the bottom bread layer turn golden brown in color for 3 to 4 minutes over low heat. Make sure the heat is low, else the bread will brown fast.
Cover the pan with a plate and gently flip it over.
The bottom bread layer will be on the top of the plate now.
Gently, slide it into the pan using a flat spatula so that the uncooked top layer will become the bottom layer.
Cook covered over low heat for 3 to 4 minutes till bottom layer turn golden brown in color as well.
Again, cover the pan with a plate and flip it over. The bread pola in the form of cake would fall nicely on the plate.
Let cool down and slice into desired shapes.
Enjoy this savory bread stuffed with chicken masala.
There will be chicken masala left, you could make more bread pola.

Or mix the chicken masala with cooked potatoes, make into cutlets and pan fry or deep fry it.
Recipe by
Cooking with Thas - Healthy Recipes, Instant pot, Videos by Thasneen
at https://www.thasneen.com/cooking/bread-stuffed-with-chicken-masala-easy-bread-pola-recipe/