Chicken Souvlaki Recipe- Greek Souvlaki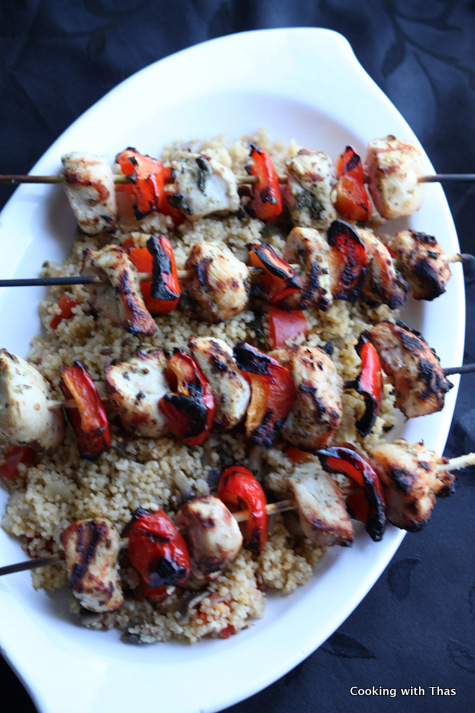 Chicken breasts, thick cubes- 3 breasts (or use cubed beef or lamb)
Dried Oregano- 1 tbsp
Fresh Mint leaves, minced- 1 tbsp
Garlic, grated- 2 cloves
Lemon juice- juice of 1 lemon
Red wine vinegar- 1 tbsp
Ground pepper- ¼ tsp
Salt- a few pinches
Olive oil- 3 tbsp
Soak the wooden skewers in water for 15 minutes, this will prevent them from burning.
In a bowl, combine the cubed chicken with all the above mentioned ingredients "for marinating chicken" cover the bowl with a plastic wrap and refrigerate for 30 minutes or longer, or marinate it overnight.
Preheat the grill at medium-high heat.
Pat dry the soaked skewers.
Insert the marinated chicken into the skewer, alternate with cubed red pepper, leave enough space between the chicken and pepper so that the chicken will cook evenly.
Grease the grill with non-stick cooking spray.
Place the skewers on the grill, cover the grill and grill for 10 minutes or so, turning occasionally until all the sides are cooked evenly.
If the chicken is turning brown fast without cooking inside, move it to the low heat area on the grill and cook.
Serve with rice, couscous or pita bread along with salad.