Sweet Plantain fry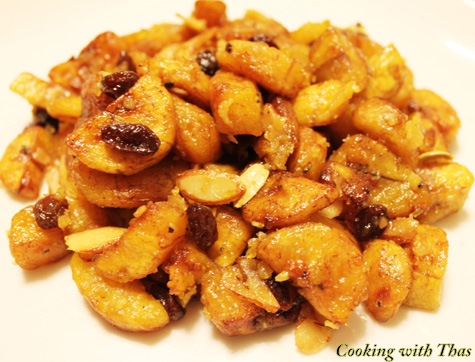 Plantains (ripe)- 2
Grated Coconut- ½ cup (or use desiccated coconut)
Egg- 1
Sugar- 3 tbsp
Raisins- 1 tbsp
Cashew nuts- ¼ cup
Ghee- 4 tbsp
Half the plantains vertically and then dice them.
Place a non-stick pan over medium heat.
Add ghee.
Add the plantains, saute till they turn light golden brown.
Add the coconut & sugar, stir fry till light golden in color.
Note: If using desiccated coconut- if sugar is added to the coconut you can skip adding the additional sugar.
In a bowl, crack an egg & beat well using a fork or whisk.
Add the egg to the ghee roasted plantain/coconut, scramble the egg well.
Add the cashew nuts & raisins; stir fry for 2 minutes.
Serve into a bowl & enjoy.