Pizza Pockets with Chicken Filling - Wheat Flour Pizza Pockets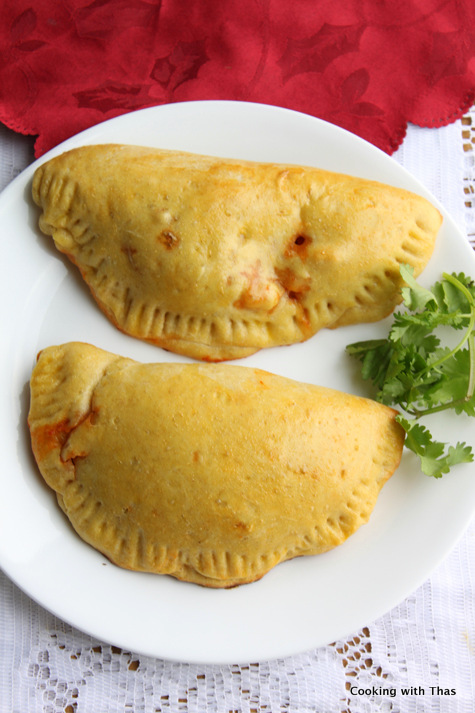 Wheat flour or Atta used for making chapati- 2 cups ( I used golden temple brand)
Dry active yeast- 1⅛ tsp
Sugar- ¼ tsp
Warm water- ¾ cup
Salt- ½ tsp
Oil- 1 tbsp
For cooking chicken
Chicken breast, cut into small cubes- 1
Garam masala- ½ tsp
Chili powder- ½ to 1 tsp
Coriander powder- 1 tsp
Ground cumin- ½ tsp
Salt- a few pinches
Coconut oil- 1½ tbsp (or veg oil)
Ginger, chopped- 1 inch slice
Garlic, chopped- 1 large clove
Onion, chopped thin and long- 2
Red pepper, cubed small- 1 small
Tomato sauce- ½ cup
Coriander powder- ½ tsp
Chili powder- ¼ tsp (or according to your needs)
Cilantro, chopped- 1 handful
Salt- to taste
Egg, beaten- 1
Cheddar cheese
In a bowl, combine yeast, warm water and sugar, let stand for 10 minutes.
After 10 minutes, add the salt and oil to the yeast solution.
In a large bowl, pour the yeast solution and slowly add the flour and knead.
It will be sticky in the beginning, after you add the entire flour you'll find it easy to knead.
Knead the dough well, it should be soft and smooth, don't add too much flour and make it into a hard dough.
Place the dough in a bowl greased with oil and cover the dough with a damp towel , keep aside in a warm place for 1 hour.
Or you could- preheat the oven at the lowest temperature for 5 minutes, turn off the heat and place the dough in the oven, this will speed up the leavening.
Do not cover the dough with wet kitchen paper towels, after an hour it will be stuck to the dough and will be very hard to peel it off.
In the meantime you could start making the chicken filling and have everything ready.
After an hour, the dough must have doubled in size.
Combine the dough once again and let it sit for a few minutes.
In a bowl, combine the chicken with all the ingredients mentioned "for cooking chicken".
In a pan, cook the chicken covered till it has cooked well and the water has dried off. Keep aside.
Place a non-stick pan over medium heat, add oil.
Add chopped ginger and garlic, saute till golden in color.
Add onion, season with salt and cook till onions turn golden brown in color.
Add red pepper, cook for a couple of minutes.
Add the cooked chicken, combine well.
Add tomato sauce, chili powder and coriander powder, combine well. Cook till the sauce has thickened.
Add cilantro, combine well.
Have a taste and add more salt if needed.
The mixture should be thick, if it's watery cook till the gravy has thickened.
Preheat oven to 425 F or 220 C.
Make 4 large sized balls out of the prepared dough.
Grease a cutting board or a flat plate with non-stick cooking spray.
Place the dough ball over it, spray non-stick cooking spray over the dough.
Spread it to a round shape using your hand. It should be a thick round.
Place 1 spoonful of prepared chicken filling on the middle of the round dough.
Top with cheese.
Fold the dough over the filling and make a half moon shape.
Dip a pastry brush in beaten egg and brush it generously over the pizza pocket.
Repeat with other dough balls.
Place the Pizza pockets on a baking sheet greased with cooking spray.
Place on the lower rack in the preheated oven and bake for 15 minutes.
Remove from the oven, let cool down for a few minutes.
Enjoy these yummy pizza pockets.
You could use any kind of fillings.
Recipe by
Cooking with Thas - Healthy Recipes, Instant pot, Videos by Thasneen
at https://www.thasneen.com/cooking/pizza-pockets-with-chicken-filling-wheat-flour-pizza-pockets/