Easy Tomato Pulissery Recipe - Tomato in Coconut and Yogurt Gravy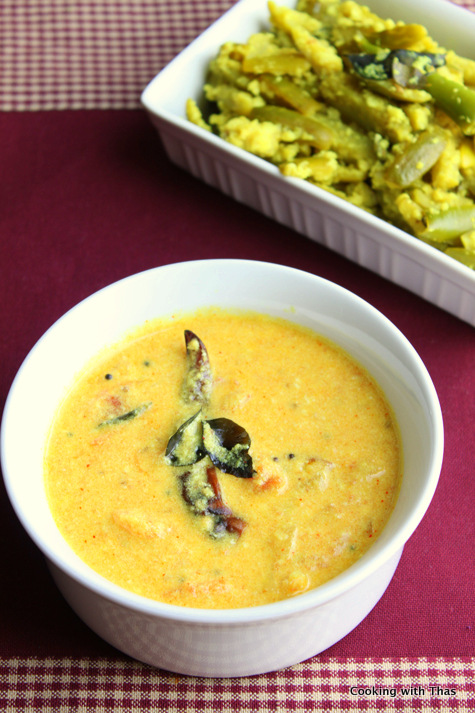 Coconut, grated- ½ cup
Garlic, chopped- 1 large clove
Cumin seeds- ½ tsp
Turmeric powder- ¼ tsp
Small onion or shallots- 2 small onions or 1 medium sized shallot
Water- ¼ cup
Coconut oil- 1 tbsp
Mustard seeds- 1 tsp
Red dry whole chili- 2
Curry leaves- 1 sprig
Small onion or shallots, chopped- 6 small onions or 2 large shallots
Tomato-large, chopped- 2
Chili powder- ½ to 1 tsp
Yogurt- ¼ cup
Salt- to taste
In a blender or food processor, grind the above mentioned ingredients "to grind" to a coarse paste. Keep aside.
Place a saucepan over medium heat, add coconut oil. Let it turn hot.
Add mustard seeds, let it splutter.
Add red dry chili, curry leaves, saute for a second.
Add small onions, season with salt, saute for a minute till translucent.
Add tomatoes, cook covered till tomatoes are slightly mashed up but not over cooked.
Add the coarsely ground coconut mixture, combine well and let cook for 3 to 4 minutes.
Add chili powder, cook for a minute.
Taste and add more salt if needed.
Remove the saucepan from the heat.
Add yogurt and combine well till yogurt has well combined.
Keep covered for a few minutes.
Serve this as a side dish along with rice.
Don't add yogurt with the heat turned on, heat will curdle the yogurt.
Recipe by
Cooking with Thas - Healthy Recipes, Instant pot, Videos by Thasneen
at https://www.thasneen.com/cooking/easy-tomato-pulissery-recipe-tomato-in-coconut-and-yogurt-gravy/