Chicken Almond Korma- Chicken in Almond Gravy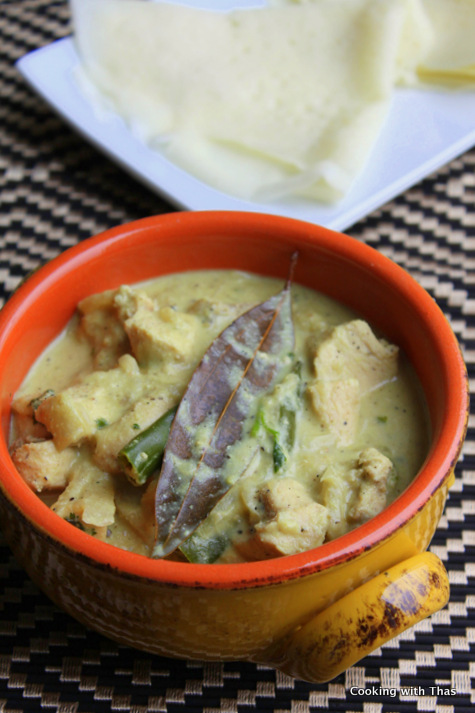 Boneless chicken breast, cubed- 2 ( or use bone-in pieces)
Ginger-garlic paste- 1 tbsp
Ground pepper- ⅛ tsp
Fennel powder- 1 tsp
Salt- a few pinches
Almonds, blanched- ½ cup
Coconut milk- ¾ cup
Oil- 1½ tbsp
Whole cardamom- 2
Whole cloves-1
Bay leaf- 1
Onion, cut long and thin- 1 large
Green chilies, halved- 2
Turmeric powder- ⅛ tsp
Fennel powder- ½ tsp
Ground pepper ⅛ tsp
Cilantro, chopped- 2 handfuls
In a bowl, combine all the above mentioned ingredients "for marinating chicken". Keep aside for 10 minutes.
You could use bone-in chicken if you prefer.
In a blender, puree the almonds along with coconut milk till almonds are blended well, keep aside.
Place a large pan over medium heat, add oil.
Add whole cardamom, cloves and bay leaf; saute till aromatic for a few seconds.
Add onions and green chilies, season with salt, cook till onions turn golden in color.
Add the marinated chicken, cook covered till chicken has almost cooked. Don't let the water that's oozed out of the chicken dry out.
Add the pureed almond-coconut milk, combine well.
Add turmeric powder, fennel powder, ground pepper and salt to taste, combine well.
Cook covered for 3 to 4 minutes.
If more spice is needed add more of the ground pepper.
Uncover and let the gravy thicken a bit.
Finally, add cilantro, combine well.
Remove the pan from the heat and keep covered for a few minutes.
Serve this korma along with basmati rice, roti, palaada, naan etc.
You could use cashew nuts instead of almonds.
Search for the keyword: Korma in my website, you will find a lot of other Korma recipes: veggie korma, egg korma, potato korma etc.
Recipe by
Cooking with Thas - Healthy Recipes, Instant pot, Videos by Thasneen
at https://www.thasneen.com/cooking/chicken-almond-korma-chicken-in-almond-gravy/