Grated Cauliflower stuffed Tomatoes - Stuffed Tomatoes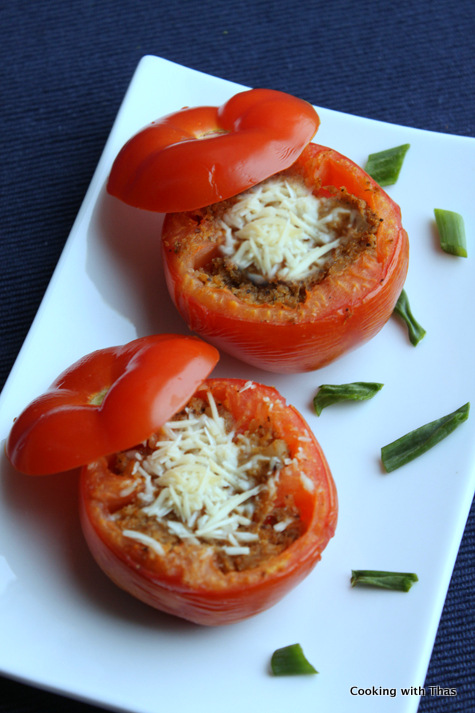 Olive oil- 1 tbsp
Onion, chopped small-1
Garlic, minced- 2 cloves
Grated cauliflower- ½ of a large cauliflower
Dried basil- 1 tsp
Dried oregano-1 tsp
Paprika- 1½ tsp
Ground pepper- ¼ tsp
Lemon juice- 1 tbsp
Salt- to taste
Cilantro or parsley chopped- 2 handfuls
Large tomatoes- 8
Parmesan cheese, grated
Ground pepper
Salt
Preheat oven to 375 F or 190 C.
Grate or chop the cauliflower florets in a food processor, it should be very fine.
Place a wok over medium heat, add oil.
Add onion, season with salt and saute till translucent.
Add chopped garlic and saute till onions turn light golden in color.
Add grated cauliflower, combine well and cook covered for a few minutes till cauliflower turns tender. If its too dry sprinkle a little water and cook.
Add dried basil, oregano, paprika, ground pepper and salt, combine well.
Cook for a couple more minutes.
Finally, add lemon juice and cilantro or parsley, cook for a minute and remove the wok from the heat. Let cool down.
Cut the tops off of the tomatoes. (Save the tops, makes a great presentation while serving)
Using a spoon, scoop out the seeds from the tomatoes, create a hollow space.
Season the inside of the tomatoes with salt and ground pepper.
Stuff the tomatoes with prepared grated cauliflower rice, about 1 to 2 tbsp per tomatoes.
Top the stuffed tomatoes with parmesan cheese.
Line a baking sheet with aluminum foil, grease the foil with non-stick cooking spray.
Place the stuffed tomatoes on the baking sheet.
Bake them for 20 to 35 minutes. Don't over bake as the tomatoes will fall apart.
Serve the baked stuffed tomatoes warm along with the grated cauliflower rice.
The grated cauliflower rice can be served with any dish instead of rice.
You could add any kind of spices and seasonings to the grated cauliflower.

For a non-veggie version: Use cooked ground beef to stuff the tomatoes.

Recipe by
Cooking with Thas - Healthy Recipes, Instant pot, Videos by Thasneen
at https://www.thasneen.com/cooking/grated-cauliflower-stuffed-tomatoes-stuffed-tomatoes/