Chicken Legs Casserole - Aromatic Chicken Legs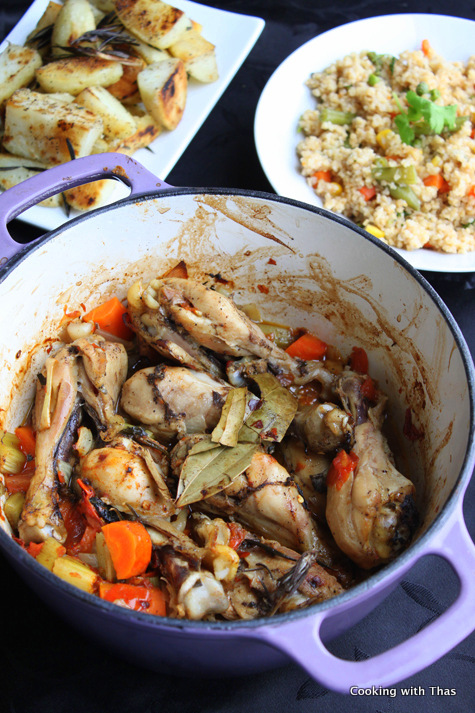 Chicken legs- 8 (with or without skin)
Ground pepper- ¼ tsp
Salt- to taste
Onion, diced-1, large
Carrot, diced-1 large
Celery, diced- 2 stalks
Tomatoes, diced- 3 large
Garlic cloves, chopped- 4 large
Ginger, chopped- 2 inch slice
Basil leaves- 10 leaves
Fresh Rosemary- 2 sprigs
Bay leaf-1
Red chili flakes- 1 tsp
Paprika- 2 tsp
Preheat oven to 375 F.
Season the chicken with ground pepper and salt.
Throw in all the ingredients into a dutch oven or oven proof wide pan, combine well.
You could either keep the skin or remove it.
Use chicken legs or large bone-in pieces.
Cover the dutch oven with its lid or with aluminum foil.
Place on the lower rack and bake for 1 hour.
After an hour, uncover the dutch oven and bake for another 45 minutes.
The chicken will be juicy and slightly browned.
You could serve the chicken legs and veggies with roasted potatoes/quinoa/rice etc.