Spaghetti and Meatballs - Baked Meatballs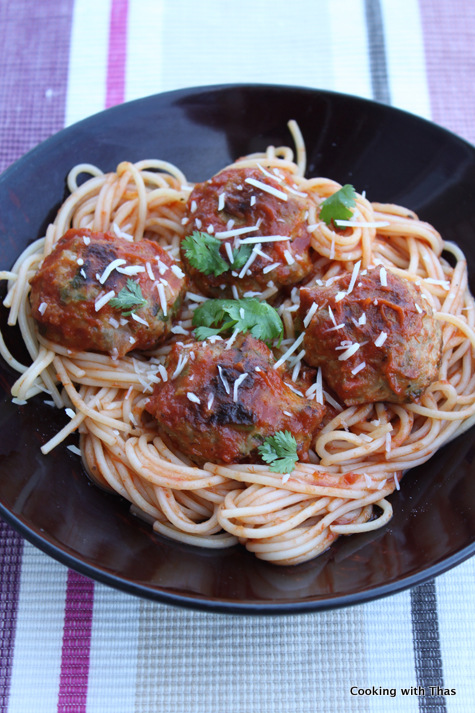 Ground chicken or beef- 1 lb
Onion, minced- 1
Green pepper minced- ½ of one large pepper
Italian seasoning- 2 tsp
Ground pepper- ¼ tsp
Salt- to taste
Parsley or Cilantro, chopped- 2 handfuls
Bread crumbs- ½ cup
Milk- ½ cup
Tomato sauce, low-sodium- 2½ cups
Ground cumin- ½ tsp
Italian seasoning- 1 tsp
Olive oil- 2 to 3 tbsp
Spaghetti pasta- ½ lb
Parmesan cheese
Preheat oven to 375 F or 190 C.
In a bowl, combine the breadcrumbs and milk together, keep it aside for 5 minutes and let the breadcrumbs absorb all the milk.
In a large bowl, combine the ground beef along with onion, green pepper, Italian seasoning, ground pepper and salt.
Add the breadcrumbs and milk mixture, combine really well without any lumps.
Make medium sized balls out of the ground beef mixture.
Place the balls on a large baking sheet lined with aluminum foil and greased with non-stick cooking spray.
Bake in the preheated oven for 30 minutes.
Remove the baking sheet from the oven, let cool down a bit.
Place a large non-stick pan over medium heat, add olive oil.
Place the baked meatballs over the oil and pan fry till it turns golden brown in color.
Transfer the balls to a kitchen paper towel, Keep aside.
In the same pan used for pan frying meatballs, add the tomato sauce.
Season the sauce with Italian seasoning and ground cumin, combine well.
Add the cooked meatballs into the sauce and let simmer for 5 minutes.
In the meantime, cook spaghetti in boiling water seasoned with salt.
Drain the water from the cooked spaghetti.
Add the spaghetti to the meatballs and sauce, combine well.
While serving, place the spaghetti as the bottom layer on a plate and top with meatballs.
Garnish with parmesan cheese and enjoy.
Meatballs can be made ahead of time and can be combined with the sauce before serving.
Recipe by
Cooking with Thas - Healthy Recipes, Instant pot, Videos by Thasneen
at https://www.thasneen.com/cooking/spaghetti-and-meatballs-baked-meatballs/