Chicken Kothu Parotta Or Chicken and Parotta Stir fry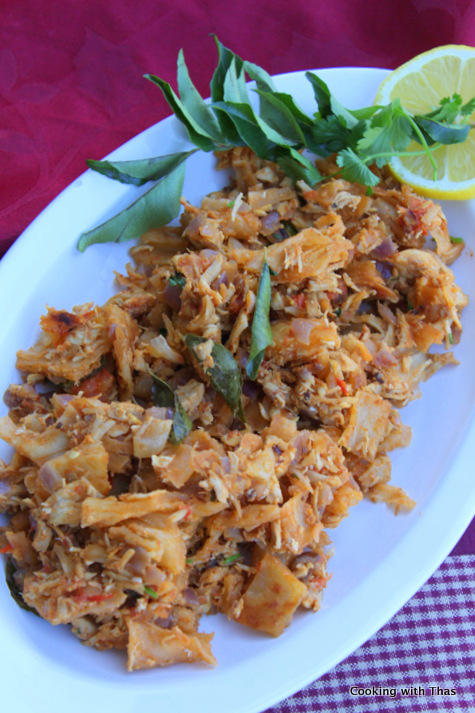 Chicken breast, cubed small- 2 (or use thighs or bone-in pieces)
Ginger-garlic paste- ½ tbsp
Chili powder- 1 tsp
Fennel powder- 1 tsp
Coriander powder- 1 tsp
Garam masala- ½ tsp
Curry leaves- 6 to 7 leaves
Salt- to taste
Ginger- 2 inch slice
Garlic- 2 large cloves
Green Chilies, chopped- 2
Coconut oil or vegetable oil- 1½ tbsp
Onion, chopped very small- 2
Garam Masala- ½ tsp
Tomatoes, chopped-2
Egg- 1
Red Kashmiri chili powder- ½ to 1tsp (if more spice needed)
Fennel powder- ½ tsp
Coriander powder- ½ tsp
Parotta, shredded- 6 small parottas or 3 large
Tomato ketchup- 2 tbsp
Lemon juice- ½ tbsp
Cilantro, chopped- 2 handfuls
Curry leaves- 5 to 6 leaves
Salt- to taste
In a saucepan combine the chicken along with all the above mentioned ingredients "for marinating chicken". Cook covered till chicken has cooked well and water from the chicken dries off. Add 1 tbsp oil and stir fry the cooked chicken till it turns light brown. Keep aside.
After the chicken cools down, shred chicken using a fork or your hand. Keep aside.
If using bone-in chicken shred the meat and discard the bones.
Stack up all the parottas and cut into small pieces using a sharp knife or just shred it. Keep aside.
In a mortar and pestle, coarsely crush the ginger/garlic and green chilies. Keep aside.
Place a large wok or cast iron or non-stick pan over medium heat, add oil.
Add onions, saute for a few minutes.
Add the crushed ginger-garlic-green chilies and garam masala, saute till onions turn light golden in color.
Add tomatoes, cook covered till tomatoes are mashed up.
Add chili powder, fennel powder, coriander powder and salt, combine well and cook for a minute.
Slide the onions/tomatoes to one side of the pan, crack an egg on the other side and scramble the eggs. Combine with the onion-tomato mixture.
Add the shredded cooked chicken, combine well and cook for a minute.
Add shredded parottas, combine well and cook covered for a few minutes.
Add tomato ketchup, mix well and cook for a couple of minutes.
Finally, drizzle lemon juice, combine well.
Add cilantro and curry leaves, cook for a minute.
Taste and add more salt or chili powder for spice if needed.
Remove the pan from the heat and keep it covered for sometime.
Serve along with Yogurt Raita.
Alternatively, you could use leftover chicken curry instead of cooking the chicken separately. Heat up the chicken curry till the liquid dries off, add shredded parottas and stir fry.
Recipe by
Cooking with Thas - Healthy Recipes, Instant pot, Videos by Thasneen
at https://www.thasneen.com/cooking/chicken-kothu-parotta-or-chicken-and-parotta-stir-fry/