Pancake Muffins - Baked Pancakes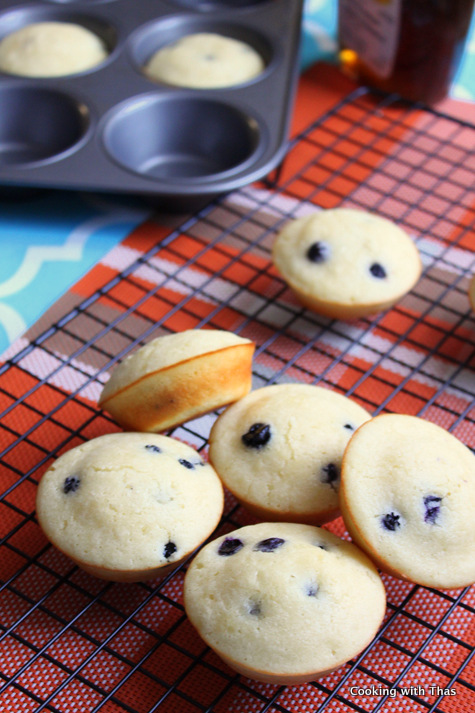 All purpose flour- 1½ cups
Baking powder- ½ tbsp
Sugar- 1½ tbsp
Salt- ¼ tsp
Milk- 1¼ cups
White vinegar- ½ tbsp
Egg- 1
Vanilla extract- ½ tbsp
Butter, melted- 2 tbsp
Blueberries- 3 to 4 per muffins
Maple syrup- to dip the pancake muffins
Preheat oven to 425 F or 218 C.
In a large bowl: combine the flour, baking powder, sugar and salt.
In an another bowl, whisk the milk and white vinegar, keep aside for a minute.
To that add egg and whisk the mixture, add vanilla extract whisk well.
Add the wet mixture to the dry mixture, and add the melted butter to it combine well till a smooth batter is formed without any lumps.
Spray a muffin pan with non-stick cooking spray.
Pour the batter ⅔ full to each cups.
Drop 3 to 4 blueberries on top of the batter.
Bake for 9 to 10 minutes or till a fork inserted into the center comes out clean.
Remove from the oven and let sit in the pan for a couple of minutes.
Slide the muffins out of the pan.
Serve warm with maple syrup or any other syrup.
For making more, just double up the ingredients.

You could make the pancake muffins the previous day and refrigerate it, next day morning just microwave it till it is warm.
Recipe by
Cooking with Thas - Healthy Recipes, Instant pot, Videos by Thasneen
at https://www.thasneen.com/cooking/pancake-muffins-baked-pancakes/