Kale Quinoa - Easy and Healthy Quinoa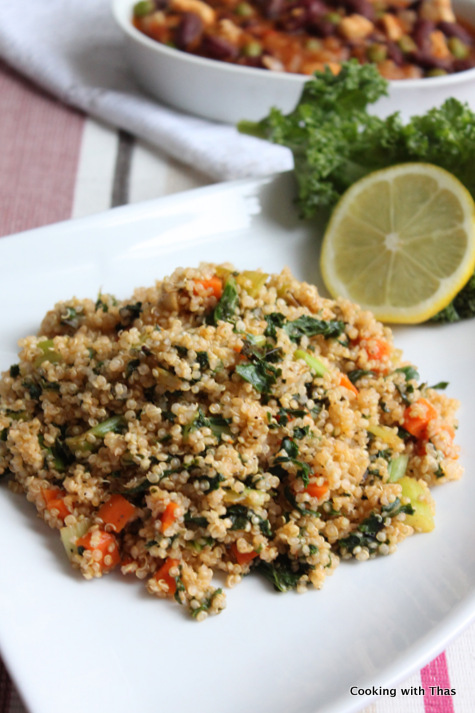 Quinoa- 1½ cups
Water- 3 cups
Salt- a few pinches
Oil- 1½ tbsp
Cardamom, whole- 2
Cloves, whole- 2
Cumin seeds- 1 tsp
Spring onions, chopped- 2 stalk
Garlic, chopped- 1, large
Carrot, chopped small- 1
Celery chopped small- 2 stalks
Ground pepper- ½ tsp
Kale - 5 leaves, chopped small
Garam masala- ½ tsp
Lemon juice- 1 tbsp
Salt- to taste
Place quinoa in a strainer, rinse under running water.
Boil water in a saucepan, season with salt. Add quinoa and cook till water has evaporated and cooked well. Keep aside.
Place a wok or non-stick pan over medium heat, add oil.
Add whole cardamom, cloves and cumin seeds, saute for a few seconds till aromatic.
Add spring onions, saute for a minute.
Add garlic, saute till light golden in color.
Add carrot and celery, season with salt and stir fry till veggies turn tender.
Add kale, saute till kale has cooked and turns slightly crispy.
Add quinoa, combine well.
Add ground pepper and salt, saute for a minute.
Add garam masala, saute for a few seconds.
Finally, drizzle with lemon juice, combine well, cook for a minute.
Remove the pan from the heat and serve the quinoa warm along with meat or fish.