Spinach Paratha or Palak Paratha- Spinach Roti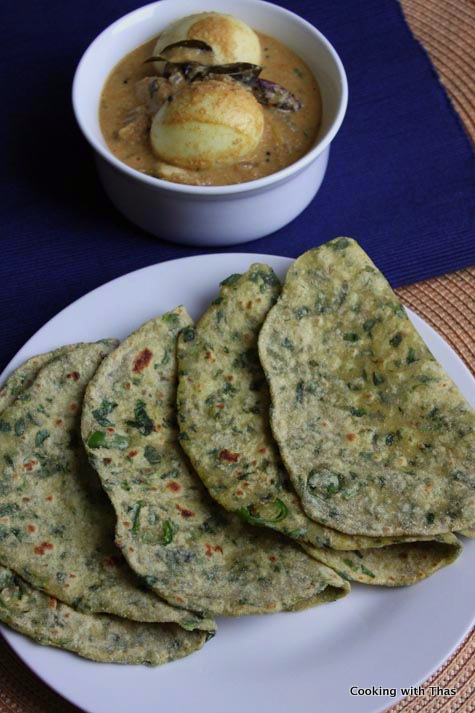 Wheat flour or Atta- 1½ cups + more while rolling the dough
Spinach, chopped finely- 2 cups
Cumin seeds- 1 tsp
Green chilies, chopped- 2
Dried fenugreek leaves- 1 tbsp (optional)
Salt- to taste
Lukewarm Water- ½ cup
Oil- ½ tbsp
Ghee- 2 tsp/paratha
Chop the spinach very finely.
In a large bowl, combine together the flour, spinach, cumin seeds, green chilies, dried fenugreek leaves and salt.
Adding fenugreek leaves is just optional, it has a very intense smell so don't add too much. A little bit goes a long way.
Slowly add the water, knead to a smooth dough.
Pour the oil over the kneaded dough and spread it. Keep the dough aside for 10
minutes.
Make medium sized balls out of the dough.
Place one ball over a cleaned flat surface or a board, dust with wheat flour and roll it to a round shape using a rolling pin. Keep dusting the flour to prevent the dough from sticking to the surface.
Place a non-stick pan over medium heat, add 1 tsp ghee.
Place the rolled dough on the pan, cook the bottom side for 20 seconds.
Flip it over and cook, gently press the spatula along the sides.
Again flip it over and cook the other side as well till golden spots are formed, you could spread 1 tsp more ghee over it.
Transfer to a plate, serve warm with your favorite curry.