Squid Roast - Kerala Style Kanava Roast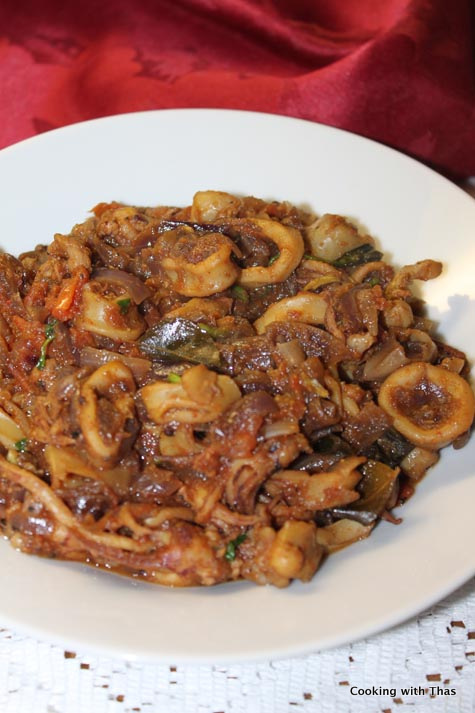 Squid tubes, cut into rounds- 5
Chili powder- ½ tsp
Turmeric powder- ⅛ tsp
Salt- to taste
Oil- 1½ tbsp
Mustard seeds- 1 tsp
Red dry chili, whole- 2
Curry leaves- 1 sprig
Onion, cut long and thin- 2
Ginger-Garlic paste- ½ tbsp
Tomato, chopped- 2
Kashmiri chili powder- 1 tsp
Coriander powder- 1 tsp
Fennel powder- 1 tsp (optional)
Garam masala- ½ tsp
Salt- to taste
Cilantro, chopped- 2 handfuls
Cut the cleaned squids into rounds, use the tentacles as well. It's better to get the pre-cleaned squids.
Marinate the cut squids with the above mentioned ingredients "to marinate squid".
Cook covered in a saucepan for 10 minutes. Keep aside the cooked squid along with any liquid in the pan.
Place a saucepan over medium heat, add oil.
Add mustard seeds, let it splutter.
Add dry red chili and curry leaves, saute for a few seconds.
Add onions, and sprinkle salt over it. Cook covered till the onions turn translucent.
Add ginger-garlic paste, saute and cook till onions turn golden brown in color.
Add chopped tomatoes, cook till they are mashed up.
Add chili powder, coriander powder, fennel powder, garam masala and salt. Combine well and cook for a minute.
Add the cooked squid along with any liquid from the cooked squid.
Combine well and cook covered for 15 minutes or till the squid has cooked well.
Open the lid and stir fry till all the liquid dries off.
Add cilantro and cook for a few seconds.
Taste and add more salt if needed.
Remove the pan from the heat and keep covered.
Serve with rice or roti.