Black eyed Peas Soup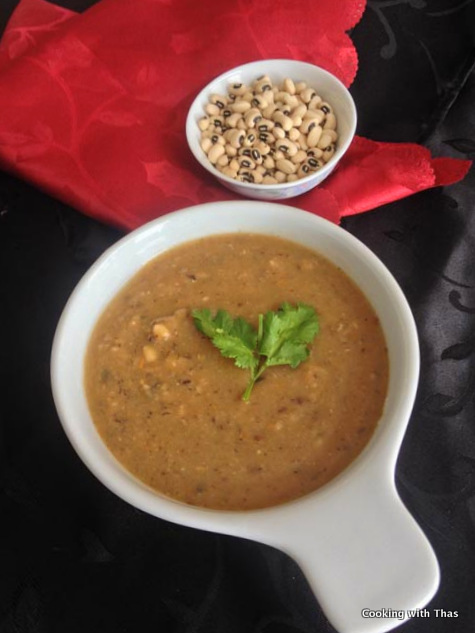 Black eyed peas- 1 cup
Carrot, diced-1
Garlic, chopped- 1 clove
Ginger, chopped- 1 inch chopped
Onion, diced-1
Tomato, chopped-1
Chili powder or cayenne- ¾ tsp
Ground cumin- ½ tsp
Bay leaf-1
Dried basil- 1 tsp
Dried oregano- 1 tsp
Chicken stock, low-sodium- 1 cup
Water- 3 cups
Ground pepper- ¼ tsp
Cilantro- 2 handful
Salt- to taste
In a pressure cooker or in a dutch oven, add all the above mentioned ingredients.
Cook till the black eyed peas has turned tender.
If using pressure cooker cook till 3 to 4 whistles.
After the mixture has cooled down a bit, discard the bay leaf and puree the mixture in a blender or using a hand blender.
Return to the pot, add water if needed to thin down the soup.
Taste and add salt/ground pepper if needed.
Garnish with chopped cilantro.
Serve in a soup bowl along with crackers.