Tapioca Stir fry with Spicy Tamarind Sauce- Easy Kappa Stir fry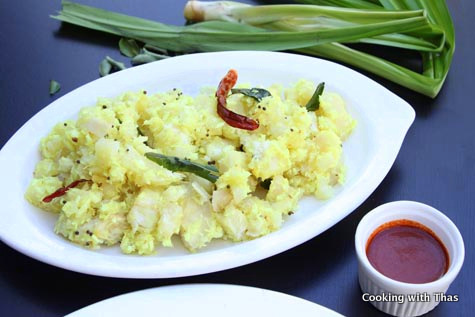 Tapioca or Yuca root, chopped- 2
Oil- 2 tbsp
Mustard seeds- 2 tsp
Whole red dry chili- 2
Curry leaves- 1 sprig
Turmeric powder- ¼ tsp
Coconut grated- ½ cup
Salt- to taste
Chili powder- 1 tbsp
Tamarind juice- 2 inch tamarind soaked in ⅛ cup warm water
Salt- to taste
Peel the skin off the tapioca.
Cut into rounds and then half them.
Add the cut tapiocas to a large saucepan, cover with water, season with salt.
Boil the tapiocas till it turns fork tender. Drain the water and keep the cooked tapiocas aside.
Place a wok over medium heat, add oil, let it turn hot.
Add mustard seeds, let it splutter.
Add red dry chilies, saute for a few seconds.
Add curry leaves and turmeric powder, saute.
Add grated coconut, stir fry till coconut turns light golden in color.
Add the boiled tapiocas and stir fry for a few minutes.
Sprinkle more salt if needed.
Remove the wok from the heat and serve on a platter.
Soak the fresh tamarind in water, drain the juice.
Combine the chili powder, tamarind juice and salt well.
Dip the tapiocas in the sauce and enjoy.
Really good tapiocas cook much faster.
Recipe by
Cooking with Thas - Healthy Recipes, Instant pot, Videos by Thasneen
at https://www.thasneen.com/cooking/tapioca-stir-fry-with-spicy-tamarind-sauce-easy-kappa-stir-fry/