Beef and Veggie Stir Fry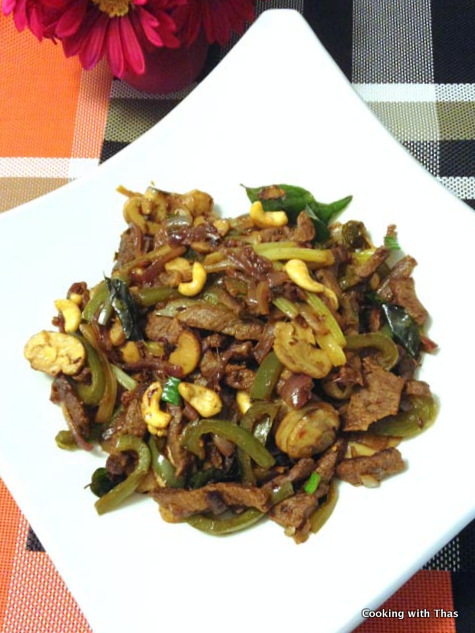 Garlic- 2 cloves
Ginger, chopped- 2 inch slice
Green chilies, chopped- 2
Oil- 3 tbsp
Dry red chili flakes- 1 tsp
Cumin seeds- ½ tsp
Fennel seeds- 1 tsp
Curry leaves- 1 sprig
Thin Beef strips- ½ lb
Ground pepper- ½ tsp
Salt- to taste
Red onion, cut into wedges -1
Green pepper, cut into thin wedges-1
Mushrooms, sliced- 1 cup
Celery, cut into thin wedges- 1 stalk
Cashew nuts, roasted- ¼ cup
Soy sauce- 3 tbsp
Rice vinegar- 1 tbsp
Spring onions, chopped- 1 stalk
In a mortar and pestle, coarsely grind garlic, ginger and green chilies. Keep aside.
Heat a wok over medium heat, add 2 tbsp oil.
Add dry chili flakes, cumin seeds and fennel seeds, saute till the seeds turn light brown and aromatic.
Add curry leaves, saute for a few seconds.
Add the coarsely ground garlic/ginger/chilies, stir fry till the mixture turns golden in color.
Add beef strips, season with ground pepper and salt.
Stir fry till the beef has cooked well.
Keep the cooked beef strips aside.
In the same wok, add 1 tbsp oil.
Add chopped red onion, season with salt and stir fry till it turns translucent.
Add green pepper, mushrooms and celery; stir fry till the veggies turn tender but is still crisp.
Add the roasted cashew nuts, stir fry for a few minutes.
Add the cooked beef strips, combine well.
Add soy sauce and rice vinegar, combine well and stir fry a few minutes.
Taste and add more salt or ground pepper if needed.
Garnish with spring onions, stir fry for a few seconds.
Transfer to a dish and serve warm with rice or noodles.