Cappuccino Mousse and Fruits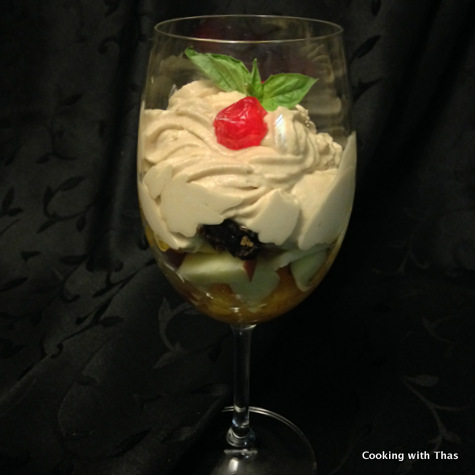 White chocolate chips- ½ cup
Instant coffee- 2 tsp dissolved in 1 tsp warm water
Heavy cream- ¼ cup + ¾ cup
Vanilla extract- 1½ tsp
Sugar- 1 tbsp
Mixed fruits- Apple, Mandarin orange segments, dates, ripe banana
Cherries- for topping
Take white chocolate chips in a microwave safe bowl. Microwave it at high power for a minute. Combine well using a spatula and microwave again for 30 to 40 seconds till the chocolate has melted and is smooth.
Dissolve instant coffee in water.
Add coffee, vanilla extract, ¼ cup cream to the melted chocolate.
Using a whisk combine well till it turns smooth, creamy and thick. If it's watery slightly beat using an electric mixer till soft peaks are formed. Let cool completely.
Beat the remaining ¾ cup heavy cream along with sugar using an electric hand mixer till stiff peaks are formed.
Fold the prepared chocolate/coffee mixture into the whipped cream.
The mixture shouldn't be watery, it should be fluffy and stiff.
Add mixed fruits into a glass of your choice, top with cappuccino mousse, place a couple of cherries on the mousse, if needed sprinkle shaved chocolates over it.
Chill it for 15 minutes and serve.