Fish Fritters in Tomato Sauce - Indo Chinese Style Fish stir fry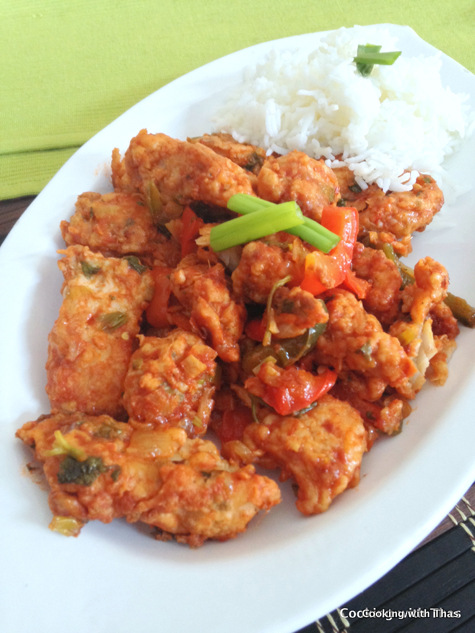 Fish, tilapia- 4 fillets cut into cubes
Ginger-Garlic paste- 1 tbsp
Ground pepper- ½ tsp
Chili powder- 1 tsp
All purpose flour- ¼ cup
Corn starch- ¼ cup + 3 tbsp
Beaten egg- 1
Cilantro, minced- 3 tbsp
Green chilies, minced- 1 tbsp (optional)
Lemon juice- ½ tbsp
Salt- to taste
Oil- 2 tbsp, used for frying fish
Ginger, minced- ½ tbsp
Garlic, minced- ½ tbsp
Red dry chili flakes-1 tsp
Green onions, chopped- 1 stalk
Green pepper, cut into thin wedges- 1, small
Red pepper, cut into thin wedges- 1, small
Tomato paste- 4 tbsp
Tomato ketchup- 1½ tbsp
Soy sauce- 1½ tbsp
Ground pepper- ¼ tsp
Cilantro, chopped- to granish
Oil- enough to deep fry fish
Marinate the fish cut into cubes with all the above mentioned ingredients "for marinating fish".
The fish should be well coated with the batter, add more flour if needed.
Heat enough oil to deep fry in a frying pan.
Drop the fish one by one into the oil without crowding.
Fry till both sides turn golden in color and crispy.
Transfer the fish fritters to a paper towel, keep aside.
Place a wok over medium heat, add 2 tbsp oil used for frying fish.
Add minced ginger and garlic, saute till golden.
Add red chili flakes, saute for a second.
Add green onions, saute for a couple of minutes.
Add green pepper and red pepper, stir fry till the peppers are slightly cooked.
Add tomato paste, ketchup and soy sauce, combine well and cook for a few minutes.
Add the fish fritters into the sauce, gently combine into the sauce.
Sprinkle ground pepper, combine well.
Cook for a few minutes.
Finally, add cilantro, cook for a minute and remove the wok from the heat.
Serve on a plate and enjoy with steamed rice.
Use any mild tasting fish.

Add more chili powder or ground pepper for more spice.
Recipe by
Cooking with Thas - Healthy Recipes, Instant pot, Videos by Thasneen
at https://www.thasneen.com/cooking/fish-fritters-in-tomato-sauce-indo-chinese-style-fish-stir-fry/