Easy Strawberry Cake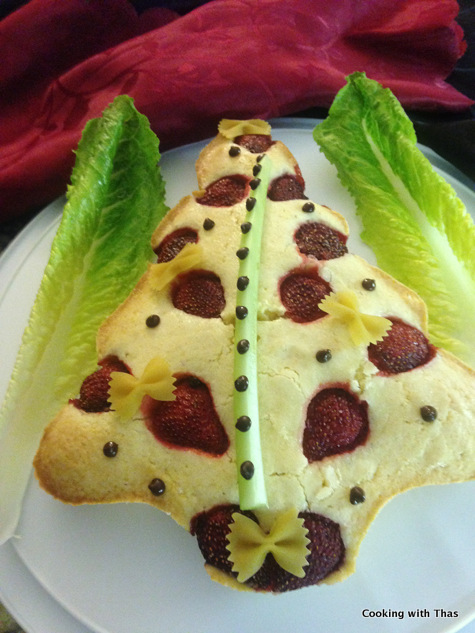 All purpose flour- 1½ cups
Baking powder- 1½ tsp
Salt- ¼ tsp
Butter, unsalted and softened- 6 tbsp
Granulated sugar- ¾ cup + 2 tbsp
Egg, large-1
Milk- ½ cup
Vanilla extract- 1 tsp
Strawberries, halved- 12
Preheat oven to 350 F.
In a bowl, combine the flour, baking powder and salt, keep aside.
In an another bowl, add the butter and sugar. Using an electric hand mixer cream them together until fluffy.
Add the egg to it and beat at low speed.
Add milk and vanilla extract, beat for a few minutes.
Lower the speed to low and add the flour ½ cup at a time.
Combine till the flour has well incorporated.
Grease a 9 inch cake pan with butter.
Pour the batter into the cake pan.
Place the halved strawberries cut side down on top of the batter. Sprinkle the remaining 2 tbsp sugar over the strawberries.
Bake at 350 F for 10 minutes.
Lower the oven temperature to 325 F and bake for another 50 minutes to 1 hour till the cake is firm and golden in color.
Remove from the oven, let cool down completely.
Cut into slices and serve. If you want drizzle strawberry syrup over it.
Leftover cake can be kept for 2 days.