Honey Shrimp with Peppers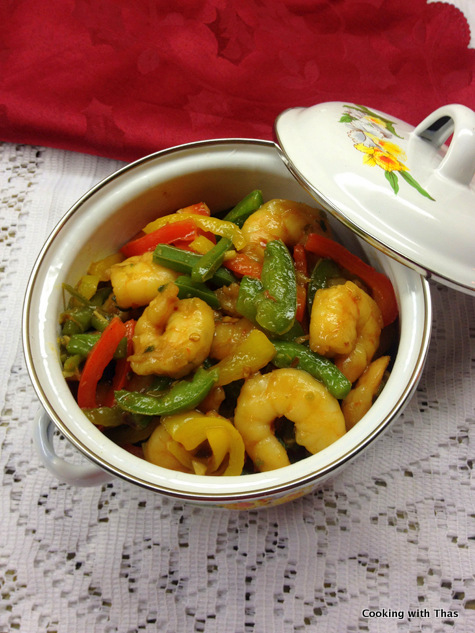 Vegetable oil- 2 tbsp
Ginger, grated- ½ tbsp
Garlic, grated- 2 large cloves
Green onions, chopped- 2 stalks
Red chili flakes- 1 tsp
Shrimp, deveined and shelled- 20, large
Soy sauce, low-sodium- 2 tbsp
Hoisin sauce- 1 tbsp
Rice vinegar- 1 tbsp
Honey- ½ tbsp
Red pepper, cut into thin wedges- 1, small
Green pepper, cut into thin wedges- 1, small
Yellow or orange pepper, cut into thin wedges- 1, small
Ground pepper- ¼ tsp (if you need more spice)
Place a wok over medium heat. Add oil.
Add grated ginger and garlic, saute till golden.
Add chili flakes, saute for a few seconds.
Add green onions, saute for a couple of minutes.
Add shrimp, saute for a minute.
Add soy sauce, hoisin sauce and rice vinegar, stir fry till shrimp has cooked.
Add honey and stir fry for a minute.
Transfer the cooked shrimp to a bowl, keep aside.
To the same wok, add the peppers cut into thin wedges, stir fry for a few minutes till the peppers turn slightly tender; don't over cook, it should remain crisp.
Add the cooked shrimp to the peppers, stir fry for a minute.
Add ground pepper if you need more spice.
Transfer to a bowl and serve along with rice or combine with noodles.