Pan Fried Chicken in Medjool Dates Sauces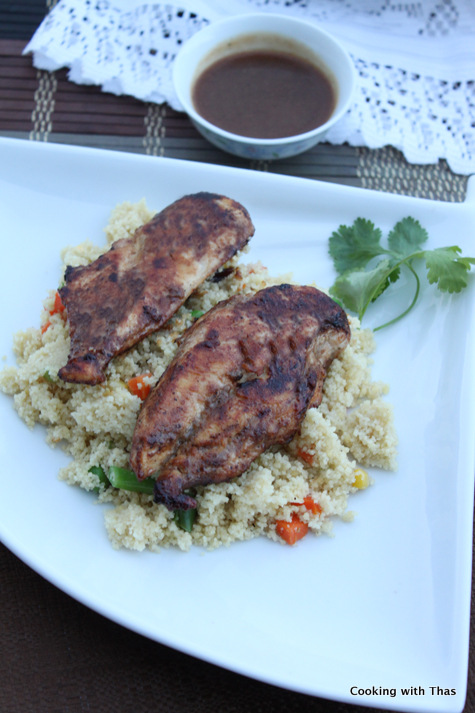 Medjool dates, pitted and chopped- 8
Star Anise- 3
Water- ½ cup
Soy sauce- ½ tbsp
Rice Vinegar- ½ tbsp
Ground pepper- 1 tsp
Salt- 2 pinches
Paprika- ½ tsp (optional)
Oil- 2 tbsp
Chicken breasts, boneless/skinless- 2 or more
Ground pepper- to sprinkle over chicken
Salt- to sprinkle over chicken
Oil- 1 tbsp
Mixed veggies, cut very small- 1½ cups
Medjool dates, chopped- 8
Water- 1½ cups
Ground cumin- ½ tsp
Ground pepper- ¼ tsp
Salt- to taste
Couscous- 1¾ cups
In a saucepan, combine the chopped dates, star anise and water.
Place the pan over medium heat and cook the dates till it has turned tender and slightly mashed up.
Remove the pan from the heat, discard the star anise, let cool down.
In a blender, puree the dates mixture to a smooth paste.
Transfer the pureed dates mixture to the pan and place it over medium heat.
Add soy sauce, rice vinegar, ground pepper, salt and paprika, combine well.
Cook for a few minutes till the sauce has thickened.
Remove from the heat and let cool down.
If the chicken breast is thick, cut it in half vertically.
Sprinkle a couple of pinches of ground pepper and salt over the chicken, spread it evenly.
Add 2 tbsp dates sauce for each chicken breast, spread it evenly and let it marinate for 15 minutes.
Place a non-stick pan over medium heat, add oil and coat the pan evenly with oil.
Place the marinated chicken breast on the pan.
Let the bottom side cook, flip it over and turn to the other side, let both sides cook well and turn golden brown in color.
Remove from the pan and keep aside.
Place a saucepan over medium heat, add oil.
Add the mixed veggies, saute for a few minutes.
Add chopped dates, ground cumin, ground pepper and salt, saute for a minute.
Add water and let water come to a boil.
Add couscous to the boiling water, cover the pan with its lid and remove the pan from the heat. Keep it covered for 5 minutes, couscous will get cooked.
Make a bed of Dates-Veggie couscous on a plate, place the pan fried chicken in dates sauce over it and serve warm.
Enjoy the juicy, tender and delicious dates chicken along with dates couscous.
You could use this dates sauce as dipping sauce, for making other dishes etc.
Recipe by
Cooking with Thas - Healthy Recipes, Instant pot, Videos by Thasneen
at https://www.thasneen.com/cooking/pan-fried-chicken-in-medjool-dates-sauce-medjool-dates-chicken/