Falafel - Ground chick peas cutlet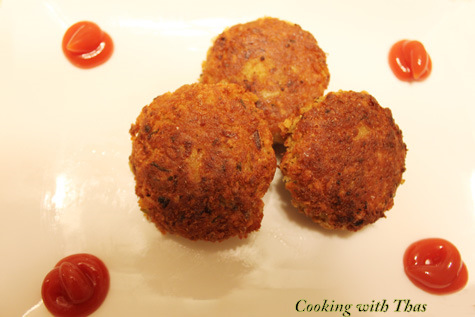 Chick peas( cooked)- 15 ounce can or 2 cups
Onion, chopped-1
Garlic- 2 cloves
Parsley chopped- ¼ cup
Cilantro, chopped- ¼ cup
Ground Cumin-1 tsp
Coriander powder-1 tsp
Ground pepper-1 tsp
All purpose flour-3 tbsp
Salt- to taste
Olive oil- 3 tbsp
Rinse the canned chick peas under running water, pat dry using kitchen paper towel.
If you don't have canned chick peas, cook dried chick peas with enough water in a pressure-cooker.
In a food processor, grind the chick peas with all the above mentioned ingredients to a coarse paste.
Make the mixture into small round balls and flatten each balls in between the palm of your hands.
Heat oil in a frying pan.
Deep fry the flattened falafel until golden brown.
Transfer to a plate lined with kitchen paper towel.
Serve hot with Hummus or Tahini sauce. If you don't have any of these, serve with Tomato ketchup.