Long Beans Stir Fry or Payar Mezhukkupuratti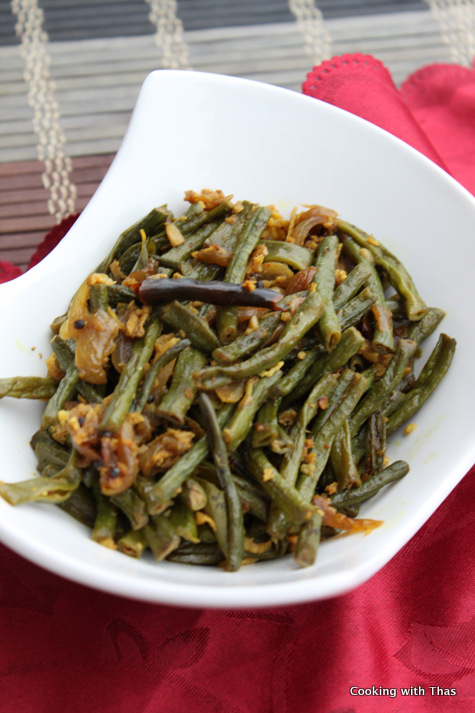 Long beans, cut into 1 inch- 4 cups
Coconut oil- 1 tbsp
Mustard seeds- 1 tsp
Whole red dry chilies- 2
Curry leaves- 1 sprig
Shallots or small onions, chopped- 6
Turmeric powder- ½ tsp
Chili powder- 1 tsp
Coconut grated- ½ cup
Salt- 1½ tsp
Cut the long beans to 1 inch long.
Heat a wok or frying pan, add oil, let it turn hot.
Add mustard seeds, let it splutter.
Add whole red dry chilies and curry leaves, saute for a few seconds.
Add chopped shallots and a few pinches of salt, stir fry till light golden in color.
Add cut long beans, combine well.
Sprinkle some salt over the beans, combine well.
Add ½ cup water and cook covered till beans turn tender.
Add turmeric powder and chili powder, saute for a minute.
Add coconut, stir fry for a few minutes till coconut turns golden brown in color.
If the mixture is getting too dry sprinkle some water and stir fry.
Remove the pan from the heat and serve along with rice or chapati.
Adding coconut oil enhances the taste of this stir fry.
Recipe by
Cooking with Thas - Healthy Recipes, Instant pot, Videos by Thasneen
at https://www.thasneen.com/cooking/long-beans-stir-fry-or-payar-mezhukkupuratti/