Fattoush - Arabian Salad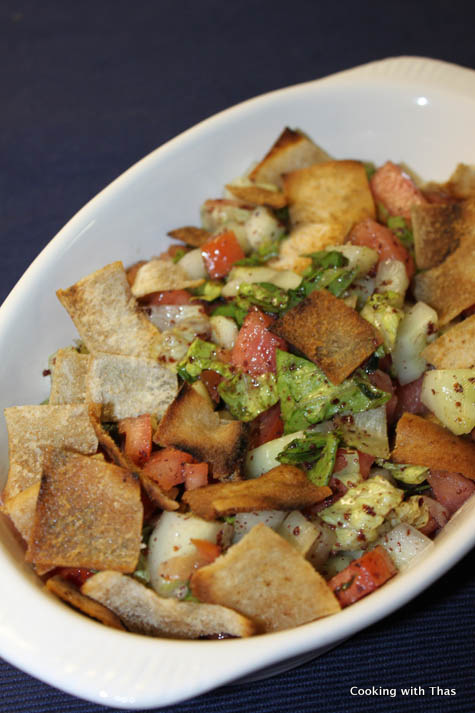 Cucumber, chopped small- 1, large
Tomatoes, chopped- 2, large or use Cherry tomatoes
Lettuce, chopped- 1 small bunch
Mint leaves, chopped- 10 leaves
Parsley leaves, chopped- 2 handful
Olive oil- 4 tbsp
Lemon juice- 2 tbsp
Sumac or ground red berries- 2 tbsp
Ground black pepper- ½ to ¾ tsp
Salt- to taste
Toasted or Fried Pita bread- 2, cut into small pieces
Cut the pita bread into small slices.
You could either toast or deep fry the pita bread. I toasted the sliced pita bread in 2 tbsp oil till it turned crunchy and golden brown in color. Keep aside.
In a large bowl, combine the cucumber, tomatoes, lettuce, mint and parsley.
In a cup, combine the oil, lemon juice, sumac, ground pepper, salt, shake it well.
Drizzle it over the veggies, combine well.
While serving, top the salad with toasted or fried pita bread.