Chicken Spring Rolls- Guest Post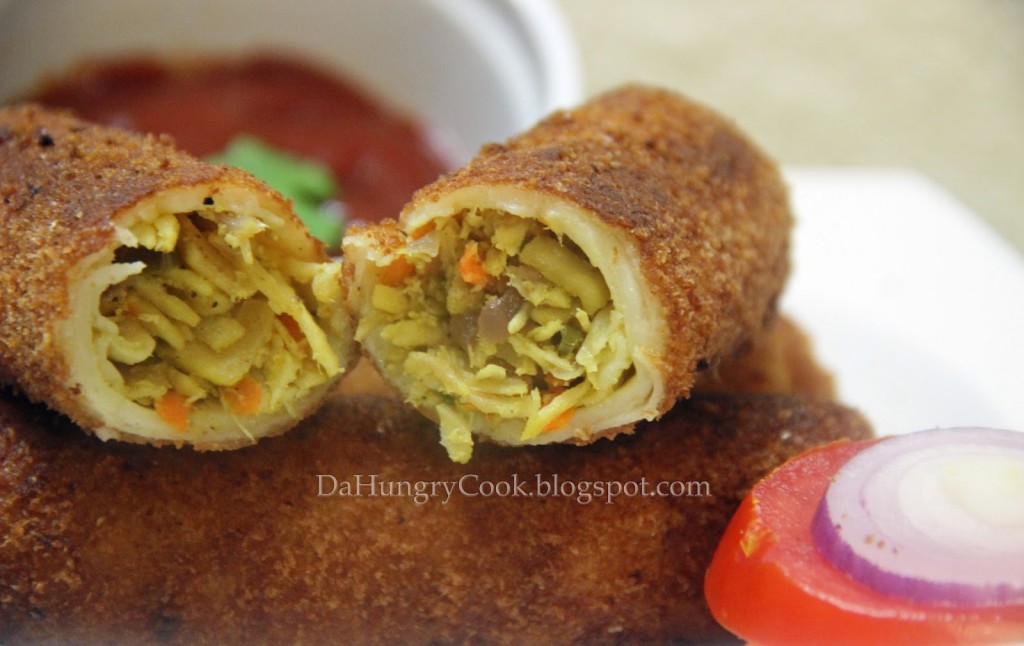 Chicken Breast - 1 Lb. (1/2 Kg.) boneless cut into small cubes
Turmeric Powder - ½ Tsp.
Black Pepper Powder - 1 Tsp.
Salt - a few pinches
Carrot - 1 (medium sized - peeled and shredded)
Red onions - 1 (medium size - sliced/diced to very small pieces)
Ginger-Garlic Paste - 1 Tbsp.
Green Chili - 2 (chopped)
Red Chili Powder - 1 Tsp. (add more if you need it extra spicy)
Turmeric Powder - ¼ Tsp.
Black pepper powder - 1 Tsp.
Coriander Powder - ½ Tsp.
Garam Masala - a pinch
Lime Juice - squeezed from 1 half of a Lime
Coriander Leaves
Curry leaves
Oil - 2 tbsp
All-purpose flour - 1 cup
Egg - 1
Salt - a pinch
Water - 1¼ cup
Egg whites - from 2 eggs
Bread crumbs: 4 cups
Oil - enough to fry
Combine the chicken along with turmeric powder, black pepper powder and salt.
Cook covered in a saucepan and cook till chicken has cooked well.
Let cool down and shred the chicken. Keep aside.
Heat oil in a sauce pan, add carrots and sauté for 2 minutes until it's cooked (make sure not to overcook and get it crispy). Keep aside the cooked carrots.
In a sauce pan, heat 2 tbsp. of oil. Add onions, a pinch of salt and sauté the onions till its transparent.
Add the chopped chilies and ginger garlic paste and sauté for 2 mins.
Add all powders: red chili powder, pepper powder, coriander powder, garam masala and sauté till it's cooked (for 2 mins.)
Add shredded chicken and cooked carrots into the pan and mix it well.
Add the lime juice, chopped coriander leaves and curry leaves to the pan. Mix well and keep the pan covered on low flame for about 5 mins. This will help integrate all the flavors together.
Remove the pan from the flame and let it cool for about 10 mins.
In a blender, grind flour, egg, salt and water together to make pancake batter. It should have a running consistency with no lumps, but not too thin.
Heat a non-stick pan and make thin pancakes of about 8 inch diameter using the batter.
Once all the pancakes are done, place one pancake at a time on a flat surface and add 2 heap tbsp. of the chicken mix and fold it as shown below picture. This is the actual fun part. Be patient and stay calm; you may not get it right on the first go but you will get there.
Beat egg whites in a bowl and also have the bread crumbs ready on a plate.
Dip the rolls one at a time into the egg whites and coat it evenly all over with egg white. Transfer the rolls to the bread crumbs plate and coat it evenly with bread crumbs and set aside.
keep the bowl with egg whites and the plate with bread crumbs close to each other. Use both your hands - one hand to coat with egg whites and the other to coat with bread crumbs. This way the egg whites will not accidentally fall on the bread crumbs and form lumps.
On a frying pan, heat enough oil to shallow fry the rolls till it's nicely brown on all sides. Serve it warm with a side of ketchup or chutney.