Semolina Drink or Thari Kanji - Rava Kanji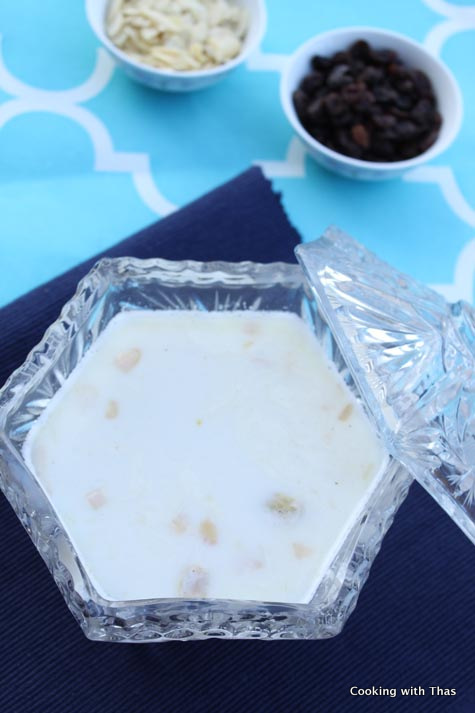 Semolina or Rava - 3 tbsp
Vermicelli, broken- 2 tbsp (you could use roasted vermicelli)
Water- 1 cup
Milk- 1½ cups
Whole Cardamom, smashed- 1
Sugar- around ½ cup (based on your sweet level)
Coconut milk- ½ cup
Salt- ¼ tsp
Ghee- 2 tbsp
Shallots or small onions, chopped- 2
Raisins- 1 tbsp
Almonds or cashewnuts- 1 tbsp
Place a saucepan over medium heat, add semolina, vermicelli, water and smashed cardamom to the pan.
Cook the semolina in water for a few minutes, keep stirring as the mixture will thicken.
Add the milk, salt and sugar, combine well and let the milk come to a slight boil, keep stirring.
Add coconut milk, keep stirring and let cook for a couple of minutes.
Remove the pan from the heat, keep covered.
Heat a frying pan over medium heat, add ghee.
Add shallots, raisins and almonds or cashew nuts to it, saute till shallots turn light golden in color.
Pour this seasoning into the prepared semolina milk mixture.
Keep covered for a few minutes.
Serve warm or you could chill it and serve.
When this semolina kanji is allowed to stand for a while, it will thicken. Before serving you could add more water or milk and microwave or heat it.