Fried Orotti - Masala Orotti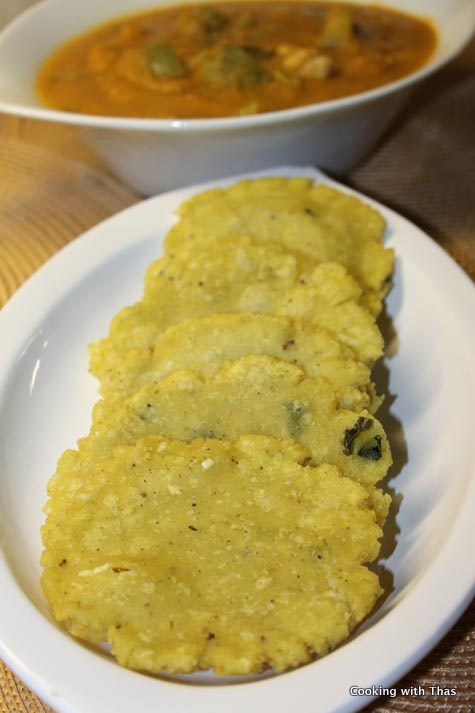 Rice flour- 1½ cups
Water- 1 cup
Turmeric powder- ¼ tsp
Fennel powder- 1½ tsp
Curry leaves- 1 sprig
Garam masala- 1 tsp
Ground Cardamom- ⅛ tsp
Coconut, grated- ½ cup
Salt- to taste
Oil- enough for deep frying
In a non-stick pan, combine the water along with turmeric powder, fennel powder, curry leaves, garam masala, ground cardamom, coconut grated and salt.
Place the pan over medium heat, let the water come to a slight boil.
Add the rice flour, combine well with a wooden spoon.
Remove the pan from the heat, let the dough cool down a bit.
When the dough is still warm, knead it well.
Make small balls out of the dough.
Roll the dough balls on a flat surface lined with plastic sheet, this will prevent the dough from sticking.
Roll into small round shape.
Heat a frying pan, add enough oil for deep frying, let the oil turn hot.
Gently slide the rolled dough into the oil and fry till it turns light golden in color.
Transfer the fried orotti on a paper towel.
Serve warm with chicken, mutton or vegetable curry.
If you want you could cook the rolled dough on a greased flat pan till it has cooked well.